What are Some Asthma Symptoms?
Asthma, a medical condition which causes a restriction of the airways, comes with a variety of signs and symptoms, many of which are very easy to recognize. Patients may experience chronic asthma symptoms, signs of a low-grade case of asthma, and some experience more severe outbreaks of symptoms known as asthma attacks. Asthma attacks can be fatal if they are not treated. People who experience asthma symptoms or asthma attacks should seek medical attention to learn more about how their asthma can be prevented or controlled.
One of the classic signs of asthma is difficulty breathing, which can be accompanied by a tight or constricted feeling in the chest. Asthma sufferers are also very prone to wheezing, with some developing a whistling noise with each exhalation. Frequent coughing, especially in the evening, is another common sign of asthma, as is the development of significant breathing problems during colds.
Nasal congestion often occurs in people with asthma, with the nasal mucus flooding the airways and making it difficult to breathe. Asthma sufferers may also have trouble breathing during and after exercise, sometimes developing extreme fatigue or nausea after exercise. They can also feel chronically tired, irritable, or unfocused. For people who use a peak flow meter, a decline in peak flow output is another strong sign of asthma.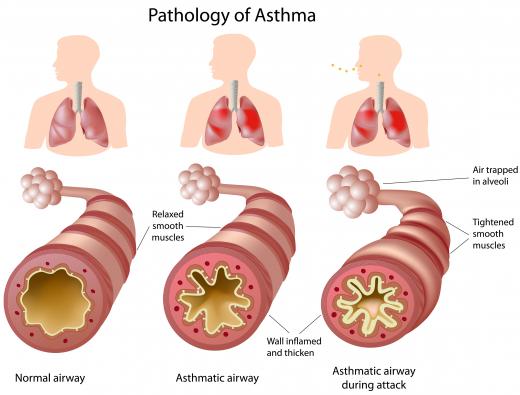 In an asthma attack, asthma symptoms get much worse. The difficulty breathing may progress into an inability to breathe at all, accompanied with very tight chest and neck muscles, a sense of panic, clammy skin, bluish fingertips, and difficulty speaking. These symptoms occur when the airways have become severely inflamed, constricted, or blocked with mucus, and the patient may require medications or medical intervention to be able to breathe again.
Left untreated, asthma symptoms tend to become more severe, and people may begin to experience frequent asthma attacks. Even in people who do not have full-blown attacks, the development of more severe chronic symptoms is a cause for concern, as untreated asthma can complicate a variety of medical conditions.
Asthma symptoms can develop in both adults and children. Chronic coughing is often the strongest warning sign of asthma, especially if it is combined with wheezing or difficulty exercising. With medical treatment, people can reduce their symptoms by taking drugs which keep their airways open, and they can have access to drugs which can be used to dilate the airways during an asthma attack. Asthma treatment may also include an evaluation for allergies, stress-induced asthma, and other situations which could have an impact on the frequency and severity of asthma attacks.
AS FEATURED ON:
AS FEATURED ON:

By: alctxphoto

An asthma inhaler.

By: Alila

An illustration of the pathology of asthma.

By: Lisa F. Young

Chronic coughing may be a symptom of asthma.

By: perfectmatch

Rescue inhalers can be used to control asthma.

By: ruigsantos

Common asthma symptoms include a constricted feeling in the chest.

By: arsdigital

Asthma causes the bronchi, which lead from the trachea to the lung, to become inflamed.

By: robyelo357

It is not uncommon for asthma sufferers to also fall victim to certain allergies.

By: bnmk0819

Children with severe asthma may receive breathing treatments.