A sketch board is a valuable tool for graphic artists. It resembles a giant clipboard, consisting of a strong, rigid backing for drawing paper, along with clips to hold the paper on. Many art students transport work on sketch boards in addition to using them during classes and while they are out in the field. Other artists who value mobility also use these boards, sometimes along with portable easels to mount them on.
The material used to make a sketch board is typically Masonite, a type of fiberboard made from waste products of the timber industry. Fiberboard is heavily compressed so that it is dense and strong, enabling it to resist breakage. A sketch board is relatively lightweight, since a very thin sheet of fiberboard can be used. Wood of the same thickness as a Masonite sketch board would be far too flexible, and a solid wood sketch board would be far too heavy, leading to the widespread use of Masonite to manufacture products like clipboards and sketch boards. The fiberboard used to make sketch boards is also usually sanded down with rounded corners to prevent injury.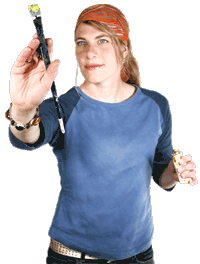 A sketch board is most often rectangular in shape. Heavy duty clips are mounted on a short end of the rectangle to hold a sketch pad in place. A carry handle is located roughly midway down the sketch board, so that the artist can carry and maneuver it with ease. Most boards also come with an over-sized rubber band, designed to hold the sketch pad shut during transit. Replacement clips and rubber bands are available to cope with eventual breakage.
Most art supply companies manufacture sketch boards in a range of sizes, designed to cope with drawing pads of various dimensions. The sketch board is usually slightly larger than the drawing pad which is mounted on it, to allow for movement and shifting while the artist is working. If an artist is unsure about what size to purchase, bringing along a sketch pad for comparison usually helps.
For art classes, sketch boards are usually required. Artists can mount these boards on easels or stands, which are almost always provided in art classrooms. In addition, the sketch board provides a mobile drawing surface which can be employed at any time, with or without an easel. In inclement weather, a sketch board is usually covered in a layer of plastic, to prevent damage to the sketch pad. Artists should make a habit of regularly checking the tightness of the fastenings holding clips onto the sketch board, along with the integrity of the rubber band. If these components wear out in an unexpected location, such as a bus, it can be extremely inconvenient.
AS FEATURED ON:
AS FEATURED ON:

Woman painting