What are Sidewalk Pavers?
Although poured concrete sidewalks have been the norm for decades, sidewalk pavers are rapidly increasing in popularity. Sidewalk pavers are pre-formed blocks that can be placed on a prepared base to form a smooth, durable walkway. In many respects, sidewalk pavers are a more practical choice than a poured concrete sidewalk.
One of the drawbacks of a poured concrete sidewalk is that portions are likely to heave, crack, and break over time, causing an uneven surface that may lead to pedestrians tripping or falling. Because each sidewalk paver is a separate unit, heaving is less likely to result in breakage. This is especially true over tree roots, where interlocked sidewalk pavers can accommodate root growth to some extent. If a sidewalk paver is broken, it can easily be removed and replaced, unlike a section of poured concrete.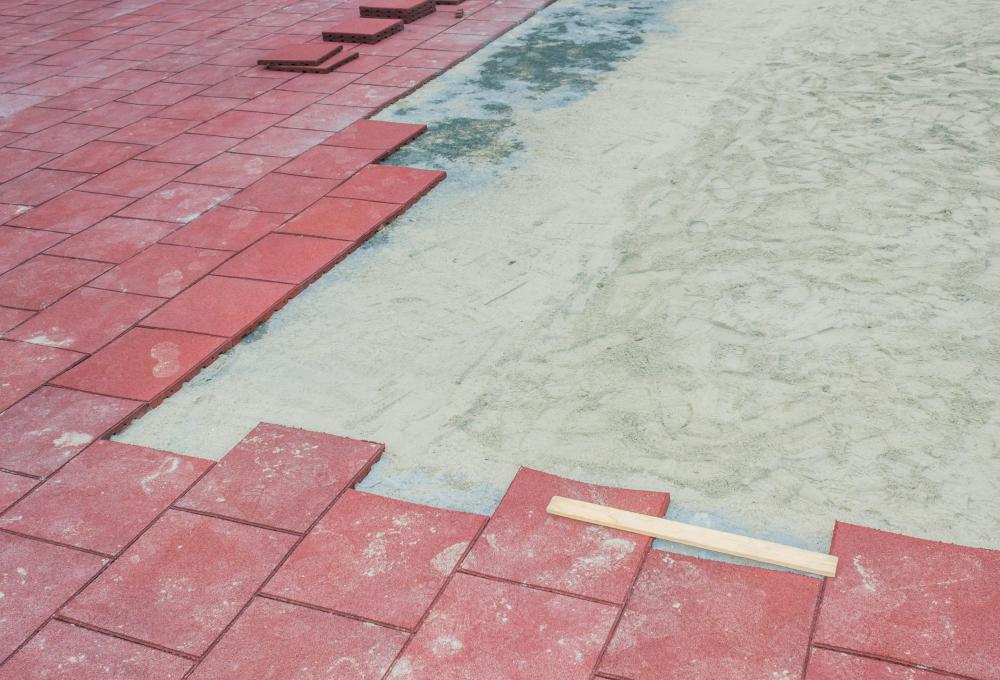 Sidewalk pavers are also aesthetically pleasing. They are available in a wide range of colors and can be laid in an amazing variety of patterns. They can have textured surfaces. They are available in several materials, such as brick, stone, concrete, and even rubber.
Brick sidewalk pavers create a traditional, rather formal look for a sidewalk. They can be laid in a variety of traditional patterns as well as individual designs. Brick sidewalk pavers are usually brown to red-brown colors that range from light to very dark. Black bricks are also available. Sizes are standard, and it is sometimes necessary to cut bricks to complete a pattern.
Concrete sidewalk pavers are available in a variety of sizes, shapes, and colors. Some paver shapes are designed to interlock, creating an especially flexible and durable surface. Special surface textures, such as cobblestones, are available and can be used to provide secure footing in unusual circumstances.
Natural stone sidewalk pavers create a natural, organic look for a sidewalk. Colors are as variable as the colors of stone, and often each individual sidewalk paver has its own color pattern. Shapes are often irregular, but it is possible to find squares and rectangles of cut and dressed stone. These pavers can be a little slippery when they are wet.
Rubber sidewalk pavers are a new development. They are usually made from recycled tires, with the obvious environmental advantages of reusing materials and reducing landfill usage. They are made in a variety of colors and provide a particularly secure surface for pedestrians. Their flexibility makes them an especially good choice for use over tree roots. It is even possible to remove rubber sidewalk pavers, prune the roots, and replace the same pavers.
In many respects, sidewalk pavers are a more practica choice than a poured concrete sidewalk.

Rubber pavers are newer development that are made from recycled rubber.

Brick sidewalk pavers create a uniform, traditional look.