What are Reflexology Sandals?
Reflexology is an alternative medicine practice that involves massaging certain pressure points located in the feet, hands, and ears. Many believers in reflexology claim that the practice can cure, fight, or prevent certain physical ailments. Reflexology sandals are specially designed sandals that take advantage of these principles — the sandals are designed with high and low points that mimic a massage given by hand, thereby stimulating the pressure points in the feet when the sandals are worn.
The human foot has more nerve endings than any other part of the body; therefore, many people argue that stimulating the soles of the feet is one of the best ways to positively interact with major organs in the body. Each raised surface of the sandals is designed to stimulate a portion of the foot that corresponds to a zone of the body. Different points work on different areas of the body because each point stimulates a different set of nerve endings through the foot.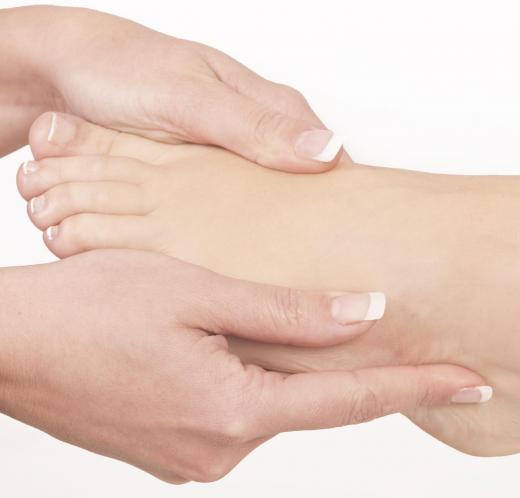 Reflexology sandals typically are not meant to be worn all day, although some brands claim they can be. The sandals are usually only worn during periods of the day when the wearer will mostly be standing still. Many users are able to take walks in their sandals, but it is not necessary to walk in them to get the full effect.
Users of reflexology sandals tend to use them while watching television, sitting down for a meal, working at a computer, or cleaning up around the house. Reflexology sandals are placed on the feet before gently rocking the feet back and forth. The design of reflexology sandals typically allows the wearer to give him- or herself a foot massage easily and discreetly. Reflexology sandals usually are small enough to be taken anywhere so that they can be used in comfort.
The sensation of the sandals against the bottom of the feet may be a bit strong for beginners. Sellers of reflexology sandals recommend that first-time users wear socks with their sandals until they are able to get used to the sensation that the sandals offer. It is also recommended that the sandals not replace sound medical advice. These types of sandals are meant to augment traditional science with new age beliefs; they are not meant to replace science or modern medicine.
AS FEATURED ON:
AS FEATURED ON:

By: Mercedes Fittipaldi

It is believed that a reflexology massage to the foot can decrease pain and stress throughout the entire body.

By: Jamie Wilson

Reflexology can be used to treat headaches.

By: Artem Furman

Some believe that stimulating the soles of the feet is the best way to positively interact with major organs in the body.