What Are Radio Frequency Identification Systems?
Radio frequency identification systems are a form of inventory management and tracking system that some commercial businesses and government agencies use to track the location and use of goods, vehicles, and people on an individual item basis. Retail products often have radio frequency identification (RFID) tags attached somewhere to their packaging, and each tag has a unique identifying (ID) code. When these tags are scanned by RFID readers, it is possible to determine the location of the object and when it is been sold or opened. Some RFID tags contain batteries so that they are always transmitting their ID code to any available reader within range, and others are passive, which means that they can be read without the need for a battery.
RFID tracking systems are seen as an improvement over barcode tracking of goods, as radio frequency identification systems keep track of every individual product instead of just products by manufacturer and model number. The RFID readers are also able to read multiple tags at once through the packaging itself. This scanning process is estimated to be as low as only 80% accurate in some cases, however. Accuracy readings improve with shorter range systems that are designed to pull information from the tag below a range of about 3 feet (0.91 meters).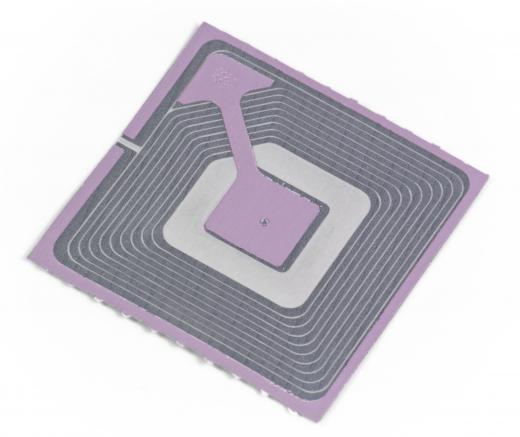 Longer range RFID systems with a capability of reading a tag at up to 300 feet (91 meters) are also in use. The technology of radio frequency identification systems has existed since the early 1970s, and one of its first uses was to track livestock on large ranches. New uses for the technology as of 2011 include embedding the chips in clothing to track medical patients in hospitals, in speed-pass systems for cars to drive through automated toll booths, and to keep up-to-date data on the location of military hardware and personnel.
One of the main limitations of radio frequency identification systems is that the RFID chips cannot store a large amount of information. Typically, RFID tags can hold about 2 kilobytes of data, compelling some companies to use the tags simply for long string identifier codes of up to 96 bits of information. The industry trend is to make cheaper, mass-produced tags that store less information than more sophisticated versions that would be expensive to deploy in the thousands, as RFID systems are often designed to accommodate.
Since RFID tags are often found in an environment where they are grouped closely together or among other radio frequency transmissions such as from cell phones, electromagnetic coupling, or electrostatic coupling can often occur. This involves the production of electromagnetic interference (EMI) as the transmissions overlap each other, and, in some cases, cancel each other out. This difference between RFID and barcodes is part of the reason why the technology has not replaced barcodes, which are simple, passive stamps that are more inexpensive to mass produce.
AS FEATURED ON:
AS FEATURED ON:

By: diffraction

A RFID tag is a means to store electronic data on an item that can be easily accessed later with a RFID reader.