Platform beds support a single mattress or futon on a slatted top. Usually, they do not have head or footboards, but use simple lines to create a contemporary style. Other areas of the world, such as Scandinavia, western Europe, and Japan have always preferred this style of beds because they give a firmer sleep surface, sit low to the ground, and provide under-the-bed storage capacity ideal for small houses.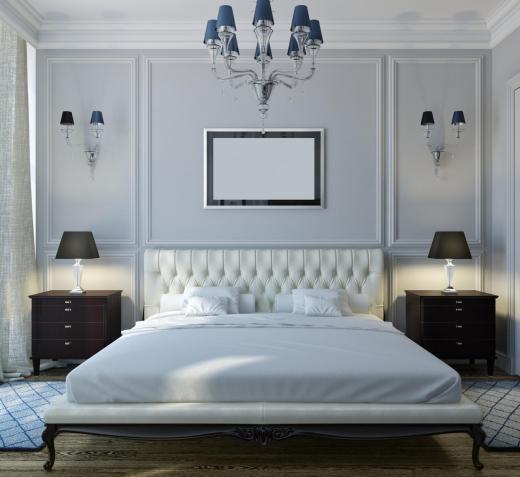 The slats of a platform bed provide the support usually given by a boxspring mattress. This means that a consumer only needs to buy one innerspring or futon mattress, which makes it a less expensive alternative to a traditional bed. It also reduces the amount of bedding required, as it does not need a bedskirt. With the thickness of only one mattress, the bed is also lower to the ground. Platform beds can complement a modern, minimalist decor in the bedroom.
Usually, this type of bed has four legs, one at each corner, but sometimes they rest on a rectangular box. This box, slightly smaller than the size of the mattress, can include storage. Drawers, cubbies, or cupboards could be lined with cedar to protect linens or seasonal clothing. Some people prefer open space instead, and fit large baskets or decorative bins under the bed to hold files, photographs, or anything that should be kept out of site.
Many exotic and environmentally friendly lumber types can be used in the bed construction because consumers are often concerned with a low environmental impact. For instance, platform beds are often made of hardwoods commonly farmed and harvested in Asia, such as teak, rubberwood, palm, and ramen. These are not old growth or endangered trees, so while they are more expensive than oak, these species have less of an effect on threatened forests.
This style often appeals to those with an Eastern aesthetic. They appear modular or sleek, sometimes incorporating other pieces of furniture into their overall design. Wider planks might frame the slats on the platform so that a lip surrounds the mattress. This area can function as a bench or a nightstand. Decorators with a Zen sensibility often appreciate the smooth lines of these beds, as they are stylish yet functional furnishings.


By: Photographee.eu

A modern platform bed.

By: sowanna

An elegant platform bed.

By: mariesacha

Some platform beds feature pull-out storage drawers.