What are Permeable Concrete Pavers?
Permeable concrete pavers provide an alternative to traditional solid concrete or asphalt paving. Different styles of permeable concrete pavers are available, but they all serve the same primary purpose, which is to allow water to pass through and be reabsorbed into the ground below. Using permeable pavers instead of solid paving methods is a way to provide a strong paved surface while avoiding excess water runoff.
When rain falls on a traditional solid concrete drive or roadway, it is not absorbed into the ground because the concrete acts as a barrier. Excessive runoff water can cause problems such as flooding or carry pollutants into existing fresh waterways. Installing permeable concrete pavers in strategic locations can cut down on these issues.
One style of permeable concrete pavers often looks quite similar to traditional concrete pavers. These permeable pavers are made from special porous cement with air pockets that allow water to run through the cement and into the ground beneath. Allowing water to seep back into the ground can be a very effective drainage system while still creating a sturdy enough surface for heavy weight or usage.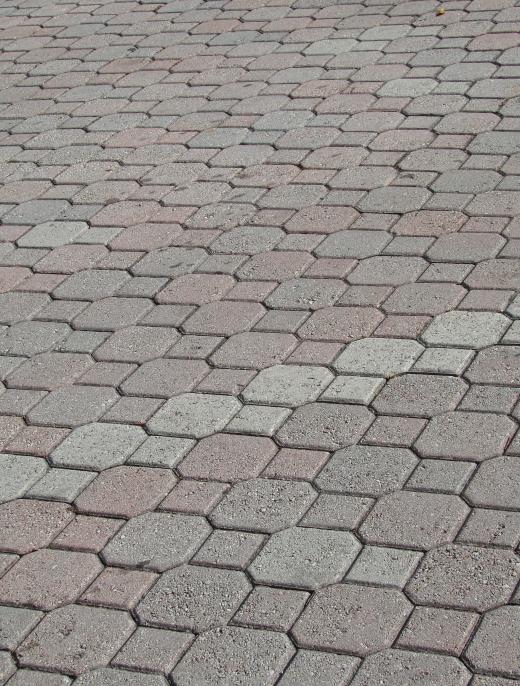 Another option for using permeable concrete pavers is to install interlocking concrete pavers. Instead of using a solid piece of traditional or porous cement to create each paving piece, interlocking pavers are shaped in a criss-cross pattern. Laying the pavers out in a grid allows for empty spaces between the concrete sections. Grass, gravel, or other materials can be used to fill in the empty spaces. These in-between spaces that are filled with cement alternatives also facilitate drainage to prevent flooding.
Private driveways are probably the most common place that permeable concrete pavers are used, although there are plenty of other locations that could benefit. Business parking lots, for example, might benefit from additional drainage. Roadways that lie at low elevations or near waterways prone to flooding might also have permeable concrete pavers installed along their shoulders.
Some maintenance is required after permeable pavers are installed. Porous concrete pavers do not need a whole lot of work, but they should be swept occasionally to keep the small holes open in order to allow water to pas through. Homeowners who use interlocking pavers with grass will probably want to keep the grass trimmed, if only for purely aesthetic reasons. For those who use interlocking pavers with gravel or stones as filler, it might be necessary to occasionally refill the in-between spaces.
AS FEATURED ON:
AS FEATURED ON:

By: sinuswelle

Business parking lots usually benefit from additional drainage.

By: Pix by Marti

The permeable pavers made from special porous cement look very similar to traditional concrete pavers.