What are Permanent Eyelash Extensions?
Eyelash extensions are polyester thread-like materials which are applied to the natural eyelashes or eyelid. These are used to add length and thickness to the natural lash line and can come in individual strands, clusters of three or full strips to be glued to the eyelid. There are several types of temporary and semi-permanent eyelash extensions available, but permanent extensions are also accessible. Permanent eyelash extensions are natural hair from an individual's own body that is surgically implanted into the upper eyelid—they are designed to last forever.
In reality, these extensions are actually transplants. Hair is taken from a grafted portion of the back of the neck. The hair is then removed with the root intact and cleaned of any excess skin cells before being transferred to the eyelid. During this process, 50 to 100 individual hairs may be removed and transplanted one at a time. As this is considered a surgical procedure, permanent eyelash extensions are normally implanted by a trained and certified professional, and the process can often be expensive.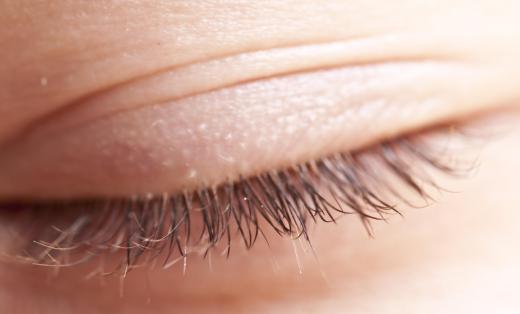 Local anesthetic is typically used during the surgery, and safety precautions are used to help protect the eyes from damage. Such precautions include eye shields to guard the eyes and sedation to subdue the patient's movement. After surgery, it is often necessary to trim the new lashes every four to six weeks, as they tend to grow faster than the natural lashes and don't fall out.
The reasons for using eyelash extensions are typically aesthetic. Some extensions make the use of mascara unnecessary, as they provide the full, voluptuous look for which mascara is intended. Many who use temporary or semi-permanent eyelash extensions on a regular basis may wish to consider permanent extensions to possibly save on time and money overall. Celebrity use of this particular surgery adds to the overall appeal and demand, as well.
Permanent beauty solutions are very popular, but some individuals are still uncomfortable with the idea of any unnecessary surgery. As with any eye surgery, there is the possibility of damage to the eye or eyelid or other complications. After surgery, which normally takes about one to two hours, recovery time is about a week for most patients.
When seeking permanent eyelash extensions, it is usually recommended that a person chooses a licensed professional to perform the transplant. Things which might be considered in the decision include the procedure, cost and the cleanliness of the facility where the surgery is performed. There are many things to consider when deciding whether permanent eyelash extensions are the best choice, and it may help for individuals to speak to a professional for advice.
AS FEATURED ON:
AS FEATURED ON:

By: Delphimages

Some people get permanent eyelash extensions in order to have thicker eyelashes.

By: bedya

Some permanent eyelash extensions make the use of mascara unnecessary.

By: Mikhail Malyugin

Permanent eyelash extensions can help create a full, voluptuous effect.

By: danr13

Surgery for permanent eyelash extensions typically takes between one and two hours.