What Are Oatmeal Raisin Muffins?
Oatmeal raisin muffins are muffins featuring whole or ground oatmeal and studded with raisins. Like their cookie cousins, oatmeal raisin muffins are often dense, soft, and rustic. The fiber and protein provided by the oatmeal, as well as the fiber and natural sugar in the raisins, may help keep individuals full when they eat these muffins for breakfast. The high amount of fiber may also help regulate digestion.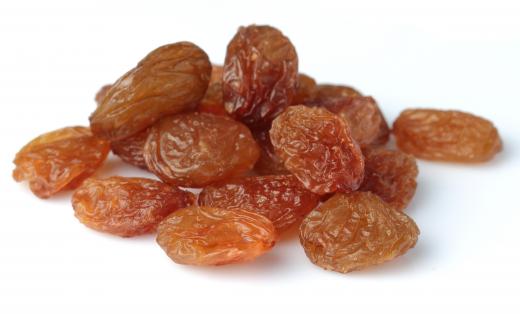 Those looking for a fast, healthy meal often see oatmeal raisin muffins as healthier than other muffins. The whole grains and vitamins in the two main ingredients often do make these muffins more nutritious than other varieties. These factors don't always mean that oatmeal raisin muffins are lower in fat, calories, or sugar than other muffins, however. In fact, some recipes call for a high amount of enriched white flour and just a cup or two (about 28 g to 56 g) of oatmeal.
When choosing oatmeal raisin muffins in pastry shop or restaurant, health-conscious individuals should look for varieties free of frosting and sugar topping. Even if the muffin contains white flour, eliminating these sweet additions help reduce overall sugar intake. Those making their own muffins at home may want to replace the sugar with sucralose, honey, or xylitol, and add an extra scoop of raisins for added sweetness.
Both homemade and commercial oatmeal raisin muffins may contain flavors other than just oatmeal and raisins. Many versions of these muffins contain dark or milk chocolate chips or walnuts. Other versions might also contain apples, dried cranberries and blueberries, or spices like allspice and cloves. Some particularly decadent versions even have sugary, crumbly streusel on the top. These may be particularly tasty for those looking for the occasional tasty treat.
Bakers wanting to make oatmeal raisin muffins suitable for everyday consumption may want to make a few additions and changes to an existing recipe. First, cooks may add dates to the recipe for extra fiber and flavor. A scoop or two of wheat germ or ground flaxseed often adds depth to the flavor, along with omega-3 fatty acids and vitamins. A splash of orange juice could replace some of the milk in the recipe and give the muffins the light sweetness of citrus fruit. Dried coconut sprinkled on top of the muffins could replace brown sugar or frosting.
In addition to being a fast morning or midday meal, oatmeal raisin muffins could become a fiber-rich dessert, especially when served with a small scoop of ice cream. Muffins fresh from the oven often complement ice cream very well. Those looking for a hot autumn treat could serve them with warm apple cider or cinnamon-spiced hot chocolate.


Oats.

By: Dionisvera

Many people like to add raisins to oatmeal muffins.

By: Sergii Moscaliuk

Honey can be added to oatmeal raisin muffin batter or spread on the muffins once they have been baked.