Night terrors are a type of dreaming quite different from the typical nightmare. They most commonly occur in children between the ages of three to eight, though this is not always the case. Older children may experience night terrors, and as well, some adults may suffer from them.
Night terrors occur during deep sleep. Children may scream, cry, shout, or wrestle with their parents. Children will not wake up fully, may not recognize their parents, and are usually inconsolable. They do not respond to logic, and even when their eyes are open, they are not fully conscious. They will also not remember what caused the terror, and will probably not remember any part of the resultant fit that occurs.
When a child suffers from night terrors, the caregivers cannot fix the problem. The only available option is to hold children softly and attempt to protect them from harm. Physical reactions to night terrors can be very violent. Keep beds well away from windows or hard furniture that could cause a child injury during night terrors. Though this behavior is very alarming, parents will only make the situation worse if they shout at the child or try to shake them into wakefulness.
In most cases, reducing stressors in the home, having a predictable bedtime routine that is calming, and letting the room be softly lit, can reduce incidence of night terrors. Children who live in a shared custodial arrangement may have more difficulty with a predictable bedtime routine. Parents sharing custody should work together so the child sleeps in the same bed every night, as much as it is possible to do so.
External stimuli in the hours right before bedtime may also cause more night terrors. Children's rooms should not have televisions, and children should not watch television for at least an hour and a half before bedtime, as this is too stimulating. Instead, offer to read a calming book to the child, or give the child a warm bath each night, which is soothing and helps to make a child sleepier.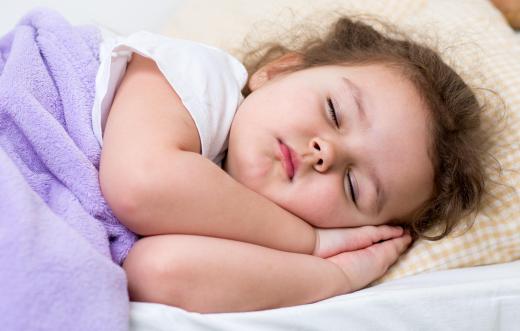 Though less common, older children may have night terrors. These still may disappear prior to adolescence, or they may continue into adulthood. Again, these episodes will not be nightmares because one cannot console, or fully waken the person with night terrors. As well, no memories exist of these events.
An issue with older children, and with adults having night terrors is that violent physical reactions may significantly harm either the caregivers or partners of the adults. Adults and bigger kids are much stronger, and their behavior during a night terror is usually completely lacking in control. Attempts to control behavior can do more harm than good.
Children that suffer night terrors after the age of eight should probably see a physician. Sleep studies can confirm brain activity during night terrors. Parents should also tell a pediatrician if children under the age of eight have frequent night terrors. Occasionally journaling a child's activities during the day can help a parent discern patterns that either produce or reduce night terrors.
Adults who continue to suffer from night terrors should definitely see a doctor, who may be able to help them through a combination of therapy, and behavior adaptations.
AS FEATURED ON:
AS FEATURED ON:

By: Magalice

Parents should tell their pediatrician if their child is having frequent night terrors.

By: olly

Night terrors are most common in children between 3 and 8 years old.

By: anyaberkut

It may be helpful for parents to journal a child's activities during the day to discern what might be causing night terrors.

By: Oksana Kuzmina

Children may scream, cry or shout when night terrors occur during sleep.