Mobiles are dangling sculptures that hang as decoration, art, or an educational tool. Most people are familiar with those that hang above cribs, play music, rotate, and give an infant something to focus on. These sculptures can also be projects for school-aged children that allows them to represent a family outing, favorite book, or science concept. Alexander Calder elevated the mobile form to high art with his oversized sculptures designed for outside spaces or solariums.
In general, mobiles are groups of suspended, three-dimensional items that have several smaller objects, such as seashells or stuffed animals, hanging from crossbars. A prototypical one would have a main string to which several horizontal supports are tied. Then a series of objects are tied to these braces, usually at different heights. Beyond that simple definition, the decoration may be tiny, heavy, delicate, playful, translucent, musical, or informative.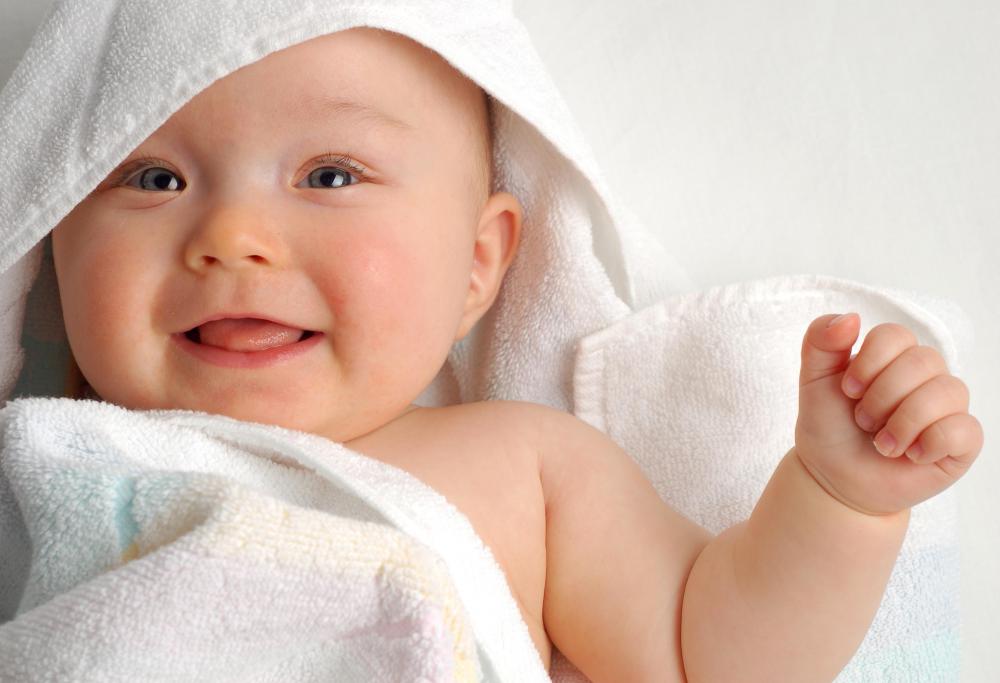 The most common kind are introduced in the home during a baby shower. This device is designed to hang over a baby's crib, bassinet, rocker, or even car seat. With batteries, these plastic devices rotate and play lullabies or nursery rhymes. They are meant to soothe fussy babies and entertain their developing brain as they begin to be able to visually focus, understand color, and hear melodies. As a baby falls asleep, he or she is quieted by the music, but if the infant wakes up unexpectedly, he or she will have something interesting to stare at, such as blocks, animals, or simple shapes in primary colors.
Children may design other mobiles as part of a challenging, artistic project. A child who has been studying ancient Egypt could create one that incorporates a mummy, pyramid, scarab beetle, and a scroll of papyrus. If he needed to illustrate the various stages of metamorphosis for a butterfly, he could cut out drawings of a larvae, caterpillar, chrysalis, and butterfly. Thematically, people typically assume the different objects included in the sculpture have something in common as they turn and flutter in the breeze.
Alexander Calder is well known for his abstract, graceful, swinging mobiles. Most of his are large enough to take up a room or an entire museum's lobby. Their sweeping arcs connect organic, amoeba-like shapes, usually in bright or simple colors like red, white, blue, yellow, and black. They tend to slowly rotate or counter-balance themselves so they're in constant motion, even away from wind. Calder was inspired by kinetic sculptures with expert mechanics and engineering. Some people describe them as planets in orbit, autumn leaves about to fall off a tree, or electrons spinning around a nucleus.
By: sattva

The most popular types of mobiles are those that hang above cribs, play music, rotate, and give an infant something to focus on.

By: Joanna Zielinska

Some mobiles are designed for babies in car seats.

By: Adam Borkowski

A mobile can give an infant something to focus his eyes on.

By: jamdesign

Mobiles are designed to soothe fussy babies.