What Are Lactose-Free Cookies?
Lactose-free cookies are cookies made without the use of butter, milk or other dairy products, and are produced in dairy-free facilities or kitchens to decrease the risk of contamination. All cookies labeled lactose-free are completely free of dairy, yet this does not necessarily mean these items are healthier than their lactose-containing counterparts. When making cookies without lactose, shortening or dairy-free butter alternatives are often used and blended together with sugar, wheat flour and eggs. Chocolate chip cookies made without lactose often use carob chips or dairy-free chocolate chips that contain only pure cocoa butter and chocolate, as well as sugar.
For those with dairy sensitivities, finding a dessert made without dairy can be somewhat of a challenge as many recipes use some form of dairy, whether it's butter or milk. Butter is a common ingredient made from dairy, and cannot be consumed by those with lactose intolerance or a high dairy sensitivity. Vegetable shortening is often used to replace butter in lactose-free cookies, as it is a hard fat that mimics the texture of butter but it is without the taste of dairy components. Some packaged cookies use powdered milk to make a cookie creamier and to add taste, so looking for cookies without this ingredient is necessary for those suffering from lactose intolerance.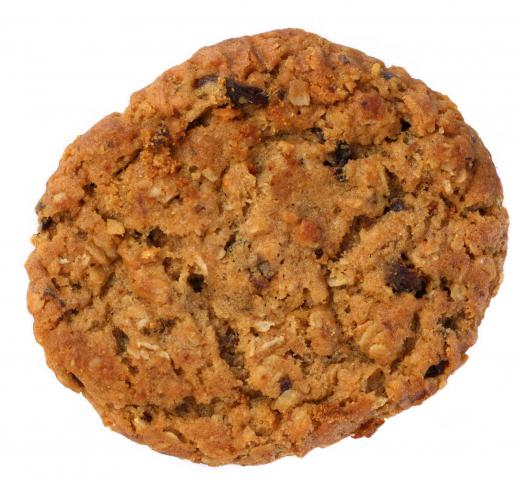 Chocolate chips are common ingredients in chocolate chip cookies, and often contain milk to create creamy, milk chocolate chips. In lactose-free cookies, carob chips may be used to replace traditional chocolate chips, as these are often made without dairy and are commonly used in vegan chocolate chip cookie recipes. Dairy-free chocolate chips are also available, using pure cocoa butter, chocolate and sugar as their main ingredients. Sometimes lactose-free cookies will use dairy-free milk chocolate chips made with the use of different milk alternatives, like coconut, rice or almond milk.
Due to the different levels of severity experienced when exposed to lactose and dairy products, people who suffer from lactose intolerance must consume products made in a dairy-free facility. Most store-bought lactose-free cookies are made in a facility free from any form of dairy and will be certified for its safety. Although lactose-free cookies are safer for individuals with a dairy sensitivity, it does not necessarily mean that these cookies are any healthier for the body. Most cookies, regardless of being lactose-free, can still include large amounts of sugar and trans fats, making it important to enjoy them in moderation as part of a healthy diet.
AS FEATURED ON:
AS FEATURED ON:

A lactose-free oatmeal raisin cookie.

By: Calgary Reviews

A lactose free cookie.

By: Marnel Tomić

Carob is often used as a lactose-free alternative to chocolate in cookies and other baked goods.

By: m.u.ozmen

Wheat flour is commonly used to make lactose-free cookies.

By: lidante

Many people have an allergy or intolerance to the lactose found in dairy products.