What are Iron Supplements?
Iron supplements can be either prescribed medication or over the counter dietary supplements that can help to make up for too little intake of iron through diet or poor absorption of iron. They are typically prescribed to treat iron deficiency or prevent it. People who may take iron supplements include those with some forms of iron deficiency anemia, poor ability to absorb iron due to their diet, and people with chronic coughs due to taking blood pressure medications. Other people who may temporarily need iron include those with severe burns, or with some conditions that cause chronic bleeding.
In prescription form, supplements are usually in tablets, though sometimes drops, shots or intravenous iron are used. A commonly prescribed source of iron is ferrous sulfate. Other iron sources include ferrous fumarate and ferrous gluconate. Some people tend to do better on one type of iron source, than they do another. Gastrointestinal upset may be greater with ferrous sulfate, for instance, than it is with ferrous fumarate.
Dosage of iron tends to depend on need, age, and size. With children, following dosing is extremely important and iron tablets should be kept well out of reach of children. Accidental poisoning due to iron is the leading cause of death in children under the age of six, and it is very important that children never have access to iron tablets or liquid iron, other than when it is prescribed by a doctor.
People may take over the counter supplements and prefer them to prescription brands. Doctors can make recommendations on dosing if patients bring in the over the counter brand they would like to use. Some people find it easier to take liquid iron supplements, but others avoid these because they can stain teeth.
Those who plan to take iron supplements as part of a dietary supplement should consult their physicians. There are a number of drugs that iron can interact with. Unless guided by a doctor, iron shouldn't be used with aspirin or other non-steroidal anti-inflammatory drugs (NSAIDS) like ibuprofen. Iron supplements may also reduce effectiveness of certain antibiotics like tetracycline and may also affect some blood pressure medications.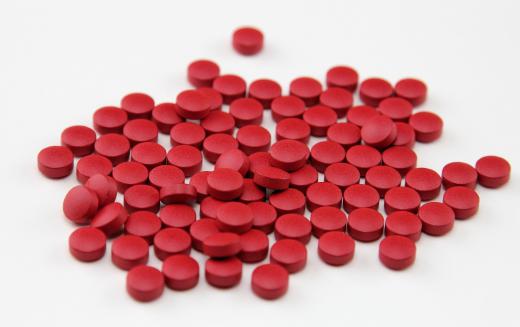 Many people get adequate iron from their diets. It is available in two dietary forms. Heme iron is typically found in red meat. Nonheme iron is present in many vegetables, citrus fruits, beans, and cereal. People have more trouble metabolizing nonheme iron, but may do so better if they eat heme iron at the same time. Certain foods, especially those containing calcium can make it difficult to absorb iron of any source. A lot of foods are supplemented with iron, like many packaged cereals, breads and pastas.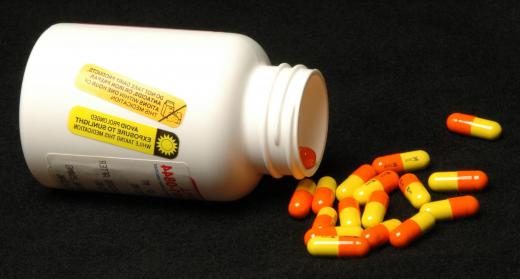 Unless a doctor recommends a person take iron, they are probably best avoided. As previously stated, most people have enough iron from their diets, especially if they eat red meat. It's fairly easy to check iron levels with a blood test if people are concerned they are not getting enough iron in their diets.
AS FEATURED ON:
AS FEATURED ON:

By: Lisa F. Young

Iron supplements are often used by people who have trouble with chronic coughing.

By: Andrei

Supplements can help people who do not get enough iron because of diet or absorption problems.

By: alinita

In prescription form, iron supplements are usually tablets.

By: robert lerich

Iron supplements may reduce the effectiveness of certain antibiotics.