Iron balusters are uprights constructed of iron and used to support railings, such as the rail on a banister. While balusters can be composed of other materials such as wood or concrete, iron is often a great way to add a decorative touch while retaining the strength and support needed to support the railing. Iron balusters may be used in the home or for exterior areas.
One of more common applications of iron balusters has to do with balconies. A series of thin iron balusters can gracefully support a handrail as well as a bottom rail that outlines the edge of the balcony. The presence of these balusters as the connection between the two balcony rails ensures that the balcony is secure and it is possible to enjoy the exterior space without fear of falling off the balcony slab.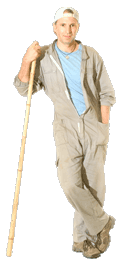 Another exterior application of iron balusters involves walkways through a formal garden area. The balusters and railings can be placed along the walkway, providing a simple but effective barrier that keeps visitors on the path and away from the temptation to pick flowers from the carefully manicured flora and fauna. When constructed to rise three to four feet from ground level, the combination also provides a sturdy surface to lean against while enjoying the beauty of the garden.
In the home, iron balusters are an attractive alternative to using wooden balusters or spindles for the design of a stairway. Because the iron balusters can be very plain or be molded to curve or include intricate designs, the look is often striking and adds one more layer of texture to the stair area. The balusters are also sturdy and are likely to require less maintenance than their wooden counterparts.
Along with an attractive appearance and practical applications, iron balusters are often a cost-effective way of creating a balustrade for use in inside or outside areas. In most instances, the iron construction will cost much less than similar wood construction, require less maintenance over the years, and is relatively easy to replace in the event that one or more of the iron balusters need replacing.
It is possible to purchase iron balusters of just about every design. This makes the use of the balusters an option with many different decorating schemes. Examples of iron balusters can be found at most home stores and other retail outlets that sell home and garden supplies.
AS FEATURED ON:
AS FEATURED ON:

Worker