What Are Gluten-Free Cookies?
Gluten-free cookies are cookies that do not contain gluten, a protein found in wheat and other grains commonly used to make cookies and various baked goods. For individuals with celiac disease or gluten intolerance, the digestion of this protein can cause sickness. These individuals can avoid digestive problems by eating a gluten-free diet. Gluten-free cookies serve as an alternative to cookies made from wheat flour and are a good way for people observing a gluten-free diet to satisfy a craving for sweets.
As with all types of cookies, gluten-free cookies can be bought or made. Making gluten-free cookies from scratch requires a practiced hand. The flours used as a substitute to wheat flour do not have the same properties as the traditional all-purpose baking flour so the leavening and binding properties are different as well. Those with a good understanding of baking chemistry may be comfortable enough to experiment with different flours, starches, and oils to achieve the perfect cookie dough base, but for less experienced bakers, gluten-free cookies will require a tested recipe.
While not all wheat-free products are gluten-free, all gluten-free products are wheat-free. With wheat being a primary ingredient in most cookies, ready-made gluten-free cookies are not easy to find. Fortunately, the increase in awareness of celiac disease, gluten intolerance, and simple wheat allergies, has led to an abundance of gluten-free options. Many grocers and almost every health food store will sell some variety of packaged gluten-free cookies. The same retailers should also have a variety of baking mixes suitable for making cookies and will also sell the ingredients necessary to bake them from scratch. Another option is to find recipes that do not use flour, such as some peanut butter cookie recipes.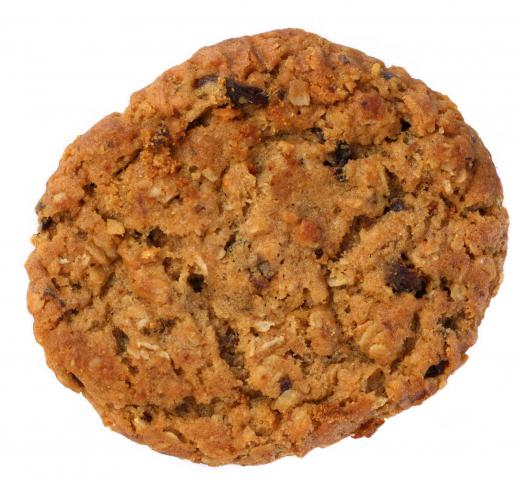 Gluten-free cookies are easier to bake by following a specific gluten-free recipe rather than by trying to substitute gluten-free flour for all purpose flour in a traditional recipe. Some gluten-free mixes can be used as a substitute to wheat flour, but it may require trial and error to achieve success. Gluten-free bakers can find a plethora of recipes for cookies, ranging from chocolate chip to lemon to peanut butter. Ready-made mixes are also available for the most common cookies. Use caution when consuming packaged cookies. Read labels on packaged cookies as well as any ingredients used in gluten-free baking to be safe.
AS FEATURED ON:
AS FEATURED ON:

Gluten-free chocolate chip cookies.

A gluten-free oatmeal raisin cookie.

By: Calgary Reviews

A gluten-free cookie.

By: S.White

Gluten-free peanut butter cookies.

By: sugar0607

Using gluten-free ingredients causes baked goods to rise differently, so the amount of leavening must be adjusted.

By: Marnel Tomić

Carob is often used as a gluten-free alternative to chocolate in cookies and other baked goods.

By: Kadmy

Customers should read labels carefully to ensure the cookies they are buying are truly gluten free.

By: xalanx

Gluten-free foods are beneficial for people with celiac disease, a digestive condition marked by gluten intolerance that can cause abdominal pain, vomiting, and diarrhea.