What are Gas Fireplace Inserts?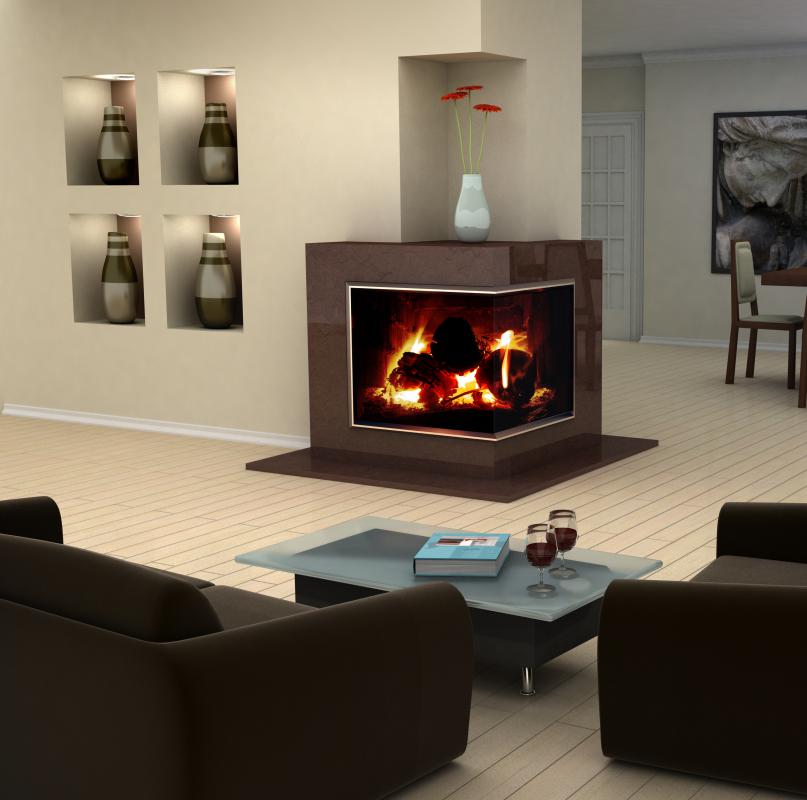 Gas fireplace inserts are simple and effective ways to convert wood burning fireplaces into gas fireplaces. The inserts function in a manner similar to a wood burning fireplace insert, with the exception that the heat is generated by a connection to a natural gas jet. The basic body for the device is a metal firebox that includes the gas jets needed to connect with the gas line. Many gas fireplace inserts come with decorative logs that allow the gas inserts to create the appearance of a natural fire while eliminating the ashes and venting issues common to operating a standard fireplace.
Most gas fireplace inserts are designed to slide directly into the existing fireplace. The unit is connected to a gas jet near the bottom of the device. A venting pipe is ran through the chimney and makes it possible to expel any fumes from the operation of the gas fireplace from the interior of the home. Some models have a second venting pipe that allows gas fireplaces to pull in air for use in the combustion process. However, many models simply make use of the airflow in the room to fuel the flames, much in the same way that a standard gas-powered space heater operates.
Just as there are many designs and sizes for fireplaces, gas fireplace inserts are manufactured in a number of colors and sizes, making it possible to find something that fits in well with the décor of the room and also work with the design of the existing fireplace area. There are also companies that will custom build gas fireplace inserts to match the exact dimensions of the fireplace is the mass produced models don't seem to work. The custom gas fireplace inserts can be designed to imitate the masonry work around a brick fireplace or blend in with the rough texture of a stone fireplace. It is even possible to have the firebox and exposed portions of the insert treated with different color washes that will enhance the overall appearance of the insert.
While the installation of gas fireplace inserts is relatively easy, it is usually a good idea to have a professional run the gas line to the existing fireplace and seal the connection between the line and the gas jets. Many local gas companies are happy to send someone out who can complete the work and also certify the job. Taking this action helps to ensure the connection to the gas line is secure and safe. The gas company professional can also double check the venting process and make sure the system will operate at maximum efficiency.
A gas fireplace with inserts.

Gas fireplace inserts can transform a wood-burning fireplace into one that runs on gas.