What are French Fried Onions?
French fried onions are onions that are usually dipped in egg or milk, dredged in flour with seasoning and then deep-fried, or may be alternately dipped in a batter before deep-frying. Onions can be in the form of rings of the onion, or narrow to wide strips of onion. Some are familiar with canned french fried onions, which are a traditional topping for dishes like green bean casserole. Others much prefer the fresh french fried onion strips or rings, as a great accompaniment to burgers, or hot sandwiches.
No matter how you slice it, french fried onions impart tons of flavor, have a great crunch, and run a close second in popularity to french fried potatoes. The preparation process for french fries is usually simpler. Most fries aren't coated, unless you get "crispy" fries, which may be dipped in batter too.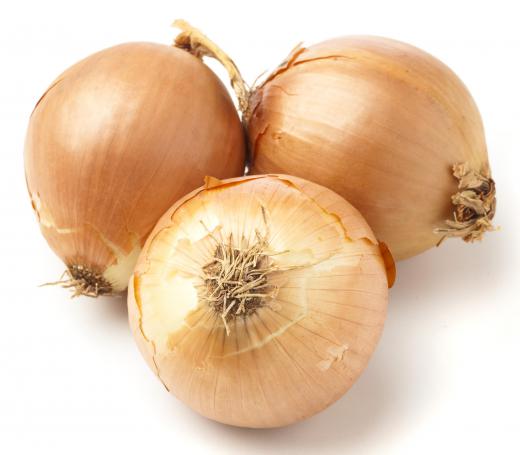 Onion lovers differ on which batters constitute the best french fried onions. Some prefer to use a beer batter, or beer to dip, and then bread crumbs to dredge the onions in. Others feel a buttermilk dip with flour is the best choice. Flour in which onions are dredged is normally seasoned with salt and pepper, but can be spiced up with additions of paprika, chili, nutmeg, or a variety of other spices. Sweet spices can accent the sweetness of the cooked onion, while savory spices tend to offset it.
Deep frying onions, means you're getting a fairly high calorie side dish when you order french fried onions. There is an alternative to deep-frying. Many natural foods stores carry frozen onions, which can be baked. These are a great alternative to frying, as the onions can still taste excellent and crunchy, without imparting a lot of extra fat and calories.
Companies like French's® have been making canned french fried onions for many decades. These not only make great toppings for green bean casserole, but for any type of casserole. As they bake, the onions get very crispy, adding nice crunch to dishes like chicken ala king or tuna casserole. You can also use these in green salads, pasta salads, or even to top a plain cheese sandwich.
Some fast food companies do not use whole onion slices when they make french fried onions, and the different can be noticeable. Instead they'll use pieces of onions combined in strips or rings. For lovers of onion rings, these often prove disappointing, since they don't have the same sweet taste of the less processed onion. You can always ask a restaurant whether they're onion rings or strips are truly prepared with whole pieces, or whether they are a mix.
AS FEATURED ON:
AS FEATURED ON:

Raw onions.

By: JJAVA

Onion rings are one variety of French fried onions.

By: al62

Most recipes for French fried onions call for a highly seasoned batter.