Flower beads are beads that are either shaped like flowers or contain a floral pattern. A flower bead may be made of plastic, glass, crystal, metal, wood, ceramic or polymer clay. Crafters may choose from a seemingly endless range of flower-themed beads or they may decide to create their own.
For example, polymer clay such as Fimo® may be purchased through most craft stores. It can be shaped into flower beads and then baked to harden the finished beads. There are many different colors of polymer clay available. All it takes is some practice shaping petals, stamens, leaves and other flower parts from the clay to create unique flower-shaped beads.
For instance, pieces of Fimo® polymer clay can be rolled into long tubes. The tubes can then be sliced to form petals or leaves to press together with the hands to make little rose shapes to use for beads. Looking at a rose or photograph of one may be a good way to help a crafter create realistic rose beads. Toothpicks or wooden skewers can be used to create holes in the handcrafted clay beads before baking.
The varieties of ready-made flower beads include ceramic and wood with painted floral and leaf designs. Many of these look quite delicate and are intricately painted. A metal flower bead may be round and rosebud shaped, or it may be a daisy front or spacer style. Flower-shaped spacer beads have the bead hole in the center of the flower so that just the flower's edges show from the front. They add pattern and texture between other beads. Front facing beads have their patterns facing outward such as flower beads with the bead hole placed through the sides.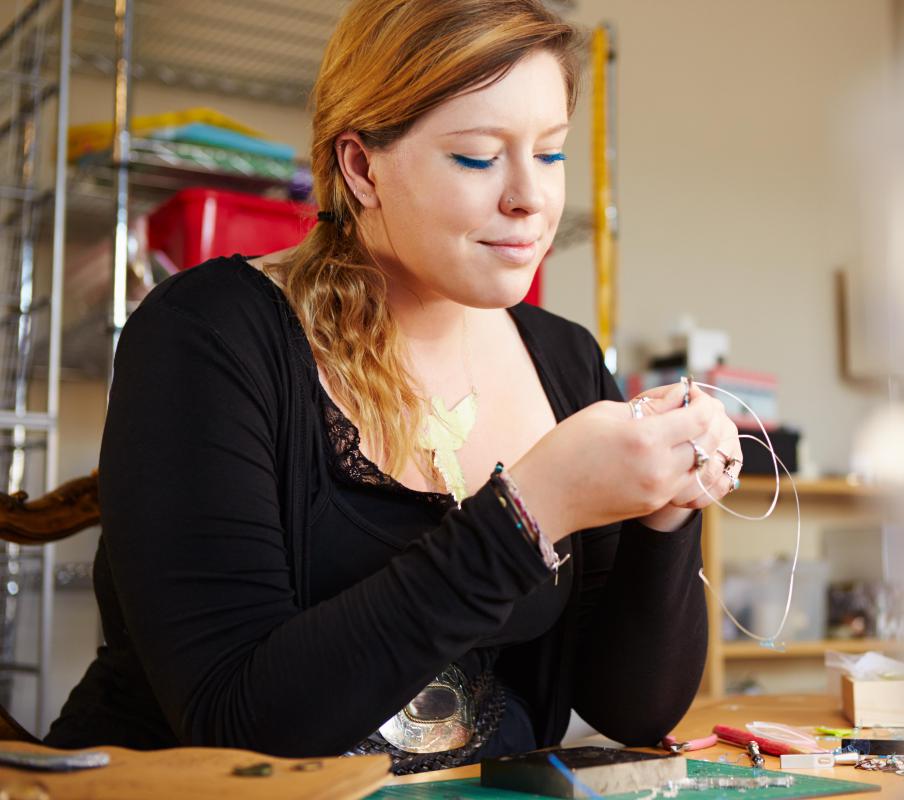 Swarovski crystal flower beads are made of natural Austrian crystal. These beautifully sparkling flower bead designs include daisy and rose shapes in colors such as yellow, pink, amethyst, light peach, pale green and clear. Glass flower beads don't sparkle like crystal ones, but they can look quite tasteful. They are available in many different sizes and shapes including long tulips with the bead hole running through their length. Plastic beads are also available in many different flower shapes such as daisies and tropical flowers.
Flower beads can be used to make all types of jewelry, including necklaces, bracelets and earrings. Beads shaped like flowers or that feature floral designs can add interest and style to otherwise plain jewelry. Crafting with flower beads is also a great way to create very feminine jewelry.
By: arenaphotouk

Natural Austrian crystal can be formed into flower beads.

By: cosma

Tubes of polymer clay can be used to make flower beads.

By: kachergina

Different colors of polymer clay are often used to make flower-shaped beads.

By: Monkey Business

Flower beads can be used to make all types of jewelry.