Final expenses are costs associated with death and funerals. They can vary widely, depending on how someone dies and what kind of funeral service is selected. Like outstanding debts, they are paid out of the estate of the deceased unless a person has purchased a final expenses insurance policy or receives benefits through work. For people killed on the job, for example, some employers will help cover the cost of the funeral.
Funeral expenses can include costs for transporting and preparing the body, securing a burial plot or cremation, paying for the casket, and handling costs like flowers and fees to members of the clergy. Some people prefer to make pre-need arrangements, paying for a funeral ahead of time and taking the opportunity to spell out wishes for the handling of the funeral. Others may set aside funds for covering the funeral or take out insurance so family members do not have to worry about the expense.
Other final expenses can include hospice and hospital bills associated with end of life care. If a death occurred in an emergency situation like a car crash, ambulance transport and emergency care will be included, and may be costly, especially if extensive medical interventions occurred to try and save the patient. Bills for medical expenses can trickle in for weeks after a death, depending on the processing speed in a billing department.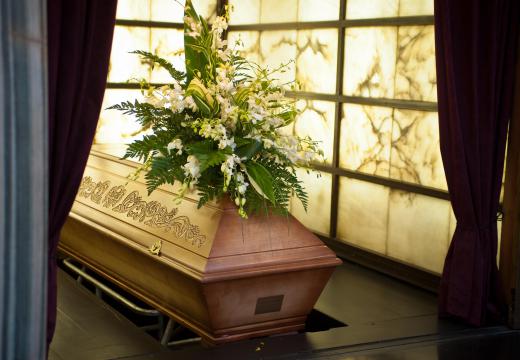 Probate, the cost of handling an estate, is also a form of final expense. Usually, executors are paid for their probate services and there may be fees like payments to assessors who provide estimates of an estate's value. Part of estate planning can include predicting these expenses and organizing the estate to limit probate costs, ensuring that survivors get as much money as possible after final expenses are covered.
People concerned about final expenses can get estimates from organizations like senior citizens groups. These organizations maintain statistics on costs, including average medical expenses associated with death and average funeral costs. Because these expenses can vary widely by region, it is advisable to get them from local organizations, if possible, to get an accurate picture. Many insurance agents are also familiar with average final expenses, as they sell products designed to cover these costs and must be aware of the amount of average payouts on final expenses policies. People can ask for estimates of expenses and get a quote on insurance with no obligation.


By: ufot

Final expenses are associated with funerals.

By: Kzenon

Pallbearers are usually made up of family and friends, and are therefore not counted among expenses.

By: mario beauregard

Funeral expenses typically include the cost of a hearse.

By: tomaspic

A casket may be part of a person's final expenses.

By: Mary Stark

Both a casket and flowers are common funeral expenses.

By: Lisa F. Young

Final expenses include the cost of a headstone.