Elbow crutches, sometimes known as forearm crutches, are a supportive device used to aid people in the task of walking. A common elbow crutch has a cuff that wraps around the forearm, approximately an inch or two beneath the elbow. There is a handgrip that allows the user to hold on to the crutches with the elbow bent at a 30-degree angle when walking. Many elbow crutches are adjustable, allowing for variances in height and gait among the wide array of people who need walking aids.
Elbow and arm crutches function in a similar manner as a more common type of crutch--the underarm or axillary crutch. Both of these mobility aids can ease pain when walking due to injury, illness or disability. When walking with both types of crutches, the weight of the body is supported by the handgrips. On underarm crutches, support is added by a padded bar that reaches the armpit. The users of elbow crutches are given support by the cuff that is wrapped around the forearm.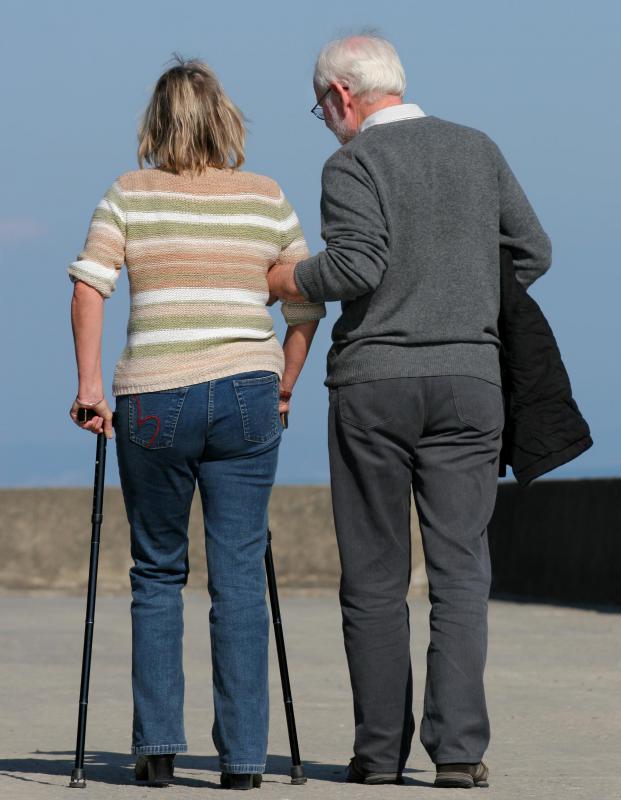 The issue of comfort is one that concerns people who need to use crutches for an extended period of time. Elbow crutches are often prescribed or recommended due to their ease of use and unimposing, more comfortable support mechanism. They can be purchased from nearly any store that specializes in medical supplies, as well as obtained from doctors, hospitals and charity aid organizations.
For people who need crutches indefinitely, there are a variety of customizations that can perform to make living with drab, standard-issue elbow crutches more bearable. This may be especially important to a child or other person who may suffer from low self-esteem or self-consciousness due to the use of walking aids. Companies have started making crutches with customized fabric cuffs, decorative colored metals and fun and funky handgrips.
The use of forearm crutches as a temporary measure is more common in Europe and Canada than in the United States and the rest of the world. This has changed, however, as more doctors see the practicality of elbow crutches and the relative comfort and ease of use as compared with other types of crutches. People who have never used crutches before may find this style easier to live with due to the relative ease with which forearm crutches allow a person to move about. For those who frequently fall, forearm crutches allow the arms to slide unscathed out of the elbow cuff so that the user can regain his bearings without being burdened by the extra appendages.