What are Different Types of Strength Training Routines?
Most all strength training routines include warm up exercises and exercises for cooling down. There are strength training routines for beginners, as well as intermediate and advanced training. Some routines are specially created for women, while others are designed for men. There are programs for teenagers and others for children.
Types of strength training routines typically vary in relation to the level of fitness required and the level of strength one hopes to achieved. Several minutes of warm up exercises are typically performed before beginning an exercise session. This may include some type of aerobic exercise followed by light stretching.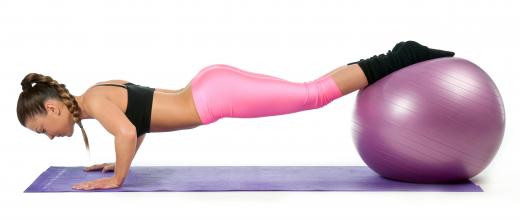 Most strength training routines designed for beginners will typically include basic squats. Some basic pieces of gym equipment may include a bench press and cable pulley. Rowing machines may be included in strength training to help build and tones arm muscles. Curls are usually performed using moderately weighted dumbbells.
Strength training routines for women typically are performed using equipment. Some equipment may include exercise bands and hand weights or dumbbells. Instruction may be included as part of the strength training program. How to maintain proper body alignment may be taught to the beginner. Some exercises for strength training may focus on the arms, legs, and shoulder muscle groups using hand weights.
Men who participate in strength training routines may also incorporate weightlifting as part of the program. Sessions may include the use of bench presses and pulleys. Handstands, push ups, and pull ups are often used for strength training exercises. Most routines are designed for men who wish to build strength and develop muscles in the upper arms, chest, and shoulders, although other areas can be focused upon as well. Increasing intensity is typically done by adding to the number of reps performed during a session.
Teenagers and school-aged children can participate in strength training workouts as well. Simple exercise equipment in a school's gymnasium or schoolyard play area are said to offer benefits for children. Resistance bands are used in many strength training exercises for children, as well as lightweight hand weights. As always, adult supervision is recommended.
Fitness experts generally recommend that any strength training program should not be overdone, regardless of the participant's level of fitness. An exercise workout focused on strength training is typically performed two or three times per week. In addition, many individuals who participate in strength training routines alternate with cardiovascular activities. This is known as cross training and highly recommended.
AS FEATURED ON:
AS FEATURED ON:

By: bertys30

Push-ups can easily be incorporated into strength training routines.

By: Dash

Light stretching is usually performed before beginning strength training routines.

By: Mat Hayward

Dumbbell curls are an effective way to build stronger biceps.

By: tolstnev

Strength training routines often incorporate weight-lifting equipment.

By: dulsita

Strength training routines may include the use of bench presses.