What Are Designer Cupcakes?
Designer cupcakes contain unusual flavors, such as liquor infused chocolate, spiced vanilla, or exotic fruits for the cake batter and icing. These cupcakes are often artfully designed with decorations or intricate patterns worked into the icing on top of the cupcake. Some designer cupcakes have a filling in the center, such as a liqueur ganache or cream cheese filling. Several bakeries sell these gourmet cupcakes alongside their traditional homemade cupcakes with plain flavors.
A designer cupcake starts with the cupcake batter. Many bakeries use unique flavors in their gourmet cupcake batter, such as rum-infused chocolate, Tahitian vanilla bean, raspberry liqueur, or tangerine. Some designer cupcakes have additional ingredients worked into the batter itself, such as nuts, spices, or even bacon.
After baking, some bakeries pipe a filling into the center of the cupcake. For example, a strawberry flavored cupcake might have a cream cheese filling, or a chocolate cupcake could have a whiskey and caramel filling. These fillings add more flavor and give help to keep the baked cupcake moist.
The icing on designer cupcakes varies from a plain cream cheese topping to intricate designs and colorful patterns. A bakery making holiday cupcakes might use red and green icing to create a topping in the shape of presents or a Christmas tree, for example. The icing itself can also have a unique flavor. A dark chocolate cupcake might be topped with a spicy vanilla icing, or a red velvet cupcake might have a cheesecake flavored icing.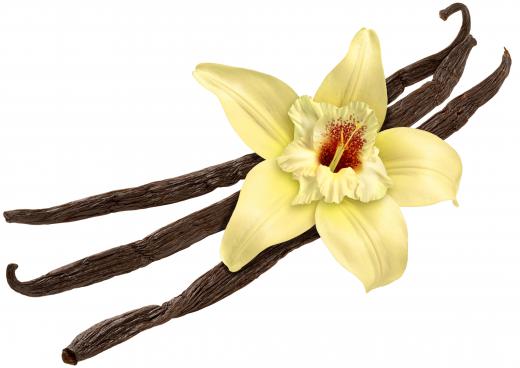 Many bakeries use eatable embellishments to add more style to the tops of designer cupcakes. Candies in the shape of pearls or other jewels are often sprinkled on top of vanilla and chocolate cupcakes. Many bakeries make candies in the shape of different objects, such as hearts, stars, or flowers to place on the top of the cupcakes. These candy embellishments give designer cupcakes a highly visual appeal and add more sweetness and flavor to the cupcake.
Designer cupcakes are often sold in small batches at boutique bakeries. Some bakeries also make custom-order designer cupcakes. For example, a bakery might make a special batch of cupcakes for a retirement party featuring the retiree's favorite flavors and icing in the company colors. With almost endless possible flavor and design combinations, bakeries can create designer cupcakes in almost any fashion the customer wishes.
AS FEATURED ON:
AS FEATURED ON:

A cupcake decorated with marzipan roses.

By: rimglow

A Tahitian vanilla bean can be added as an ingredient in designer cupcakes.

By: Eléonore H

Many small bakeries feature specialty cupcakes.

By: Gresei

Some bakeries mix whiskey with other types of cupcake fillings.