Cornrow braids are commonly called cornrows. This hairstyle involves sectioning the hair and then forming a braid that is connected to the scalp in each section. Sometimes beads or other types of ornaments are added to make such hairstyles more attractive. Although some people have the ability to style their own hair in this manner, it is most common to have someone else do the braiding.
Braiding involves intertwining three strands of hair. The hair is usually carefully sectioned so that each section can be clearly and neatly identified. In some cases, braids are loose, meaning each one dangles from the scalp.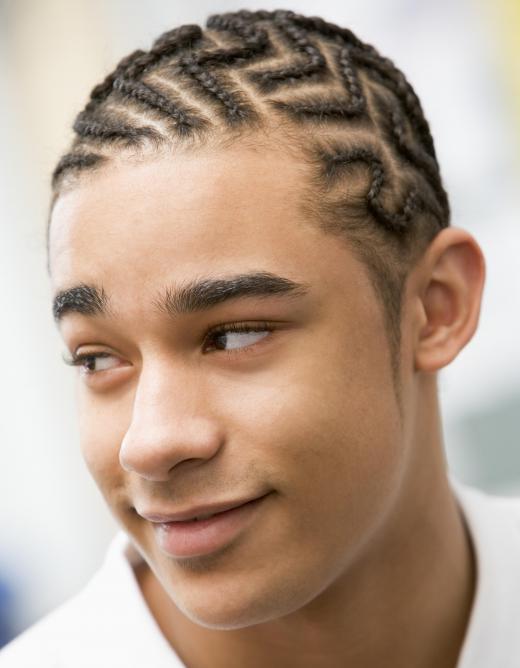 With cornrows, however, the sections are usually long. A single braid begins in one place and follows the course of the outlined section as it is connected to the head. A cornrow braid only dangles at the end. For example, if the hair is sectioned in rows from the hairline to the middle of the head, the cornrow will be flat along the way and will only hang loosely after it has passed the outlined midsection.
Cornrow braids can be sectioned so they run straight from front to back. It is also possible to section the hair so the cornrows can form a variety of designs. This hairstyle is possible for a wide range of hair textures. It is generally best, however, for people with coarser and thicker hair. This is because slippery and fine hair does not usually hold the style as well.
Cornrow braids can be worn by children or adults, males or females. Celebrities of both sexes, such as soccer star David Beckham and singer Beyonce Knowles, have been known to wear these types of braids. There are two notable differences, however, between male and female cornrow styles. Males' braids tend to be shorter than those worn by women. One of the primary reasons for this is because women tend to add weave into their cornrows to make them fuller, longer, and to add color.
There are several reasons that cornrow braids are usually done by a person other than the one wearing them. It can be very difficult for a person to properly section certain areas of her own hair. Neat lines are usually essential to making such hairstyles presentable. Also, many people do not have the skill to braid in this manner, and even those who do can find it difficult to neatly style their own hair in this way.
AS FEATURED ON:
AS FEATURED ON:

By: Monkey Business

Cornrows can be braided into a variety of designs.

By: Maxisport

Professional soccer players are known for their flamboyant hair styles.