What are Conventional Antipsychotics?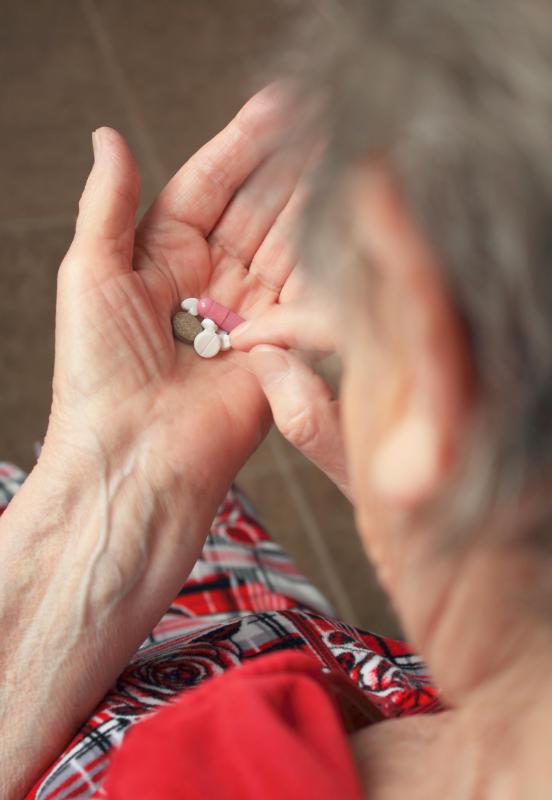 Conventional antipsychotics is a term that refers to the traditional medications used to treat a variety of mental disorders that manifest with psychotic symptoms. Some of the most commonly used drugs are droperidol, haloperidal, chlorpromazine, and thioridazine. This list of medications are categorized as typical antipsychotics, while other, more recently employed medications are listed as atypical. These antipsychotic drugs reduce the symptoms of diseases and disorders such as bipolar disorders, schizophrenia, and delusional or paranoid disorders. Both conventional antipsychotics and atypical medications work by changing the levels of neurotransmitters, a type of chemical, in the brain.
One of the most common conventional antipsychotics is droperidol, which is often used to treat anxiety and aggressive behavior as well as other psychotic disorders. It can also be used in the treatment of childhood behavioral problems and mania disorders. Droperidol can cause adverse side effects in patients with epilepsy, severe depression, and Parkinson's disease. This medication is available in tablet, liquid, and injection forms. Some common side effects include nausea, tremors, and mental confusion.
Haloperidal is another frequently used conventional antipsychotics medication, and is often prescribed for patients suffering from brain damage, tics, and Gilles de la Tourette Syndrome. It is also commonly prescribed for anxiety and aggression disorders. This medication is available in several forms, including liquid, injections, tablets, and capsules. Haloperidal should not be used for people with histories of Parkinson's disease or epilepsy, or for women who are pregnant or nursing. Side effects can include headaches, dizziness, and loss of appetite.
Another example of conventional antipsychotics is chlorpromazine, which is used in the treatment of delusional disorders, constant hiccups, and to control nausea and vomiting when other medications prove ineffective. Chlorpromazine is prescribed in suppository, liquid, tablet, and injection forms. It is not to be used in the treatment of thyroid problems, prostate problems, glaucoma, and should never be prescribed to elderly patients. This antipsychotic medication can cause side effects such as dry mouth, sleep problems, and jaundice.
Thioridazine is often used to treat behavior problems in children, anxiety, and paranoid delusional disorders, as well as other of the psychotic illnesses. This medication is available in tablet and liquid forms. Doctors avoid prescribing thioridazine to people with some types of cancer, glaucoma, elderly patients, and patients who are pregnant or in a coma. The use of the medicine may cause side effects such as problems with urination, problems with the mouth and speech, and breathing difficulties in some patients.
By: krutoeva

Droperidol is one of the most common conventional antipsychotics.

By: Alliance

Antipsychotic drugs work by adjusting the levels of neurotransmitters in the brain.

By: Piotr Marcinski

Some conventional antipsychotics may cause nausea.