What are Concrete Floor Grinders?
Concrete floor grinders are approximately vacuum cleaner-sized tools that use horizontally rotating discs to level, smooth, or clean a concrete surface. They work best at removing between 1/16" and 1/8" of surface material. Concrete floor grinders are analogous to "fine" sandpaper in a range of masonry tools that includes planers, scabblers, scalers, and blasters. Floor grinders can produce the smoothest-looking surfaces relative to these other tools.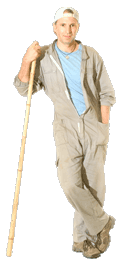 Floor grinders come equipped with a rubber sleeve to ensure that the concrete dust produced by the grinding apparatus remains contained. Discs with certain accessories are available -- brushes, grinding stones, scarifiers, and diamond-segmented inserts. Discs of varying hardness can be found on the market. Counter-rotating two disc models are sometimes used to afford greater control to the operator.
Most concrete floor grinders are gas- or propane-powered and do not require a wall outlet. For wet grinding jobs, certain models come with two-gallon water tanks. Almost all models come with a dust collector and vacuum. Dyma(TM) brand grinders are among the most powerful floor grinders, using diamond-reinforced discs to produce results as much as four times faster than other grinders.
Special "edge-grinders" are used to grind tough corners and sometimes walls. Softer pads attached to floor grinders can be used to polish brick and more sensitive stone surfaces. Concrete floor grinders are frequently rented rather than purchased. They are powered by motors that range from 2HP to about 15HP.
Besides industrial or civic applications, floor grinders are used in residential settings, for example to produce a rustic texture on stone or concrete. Floor grinders have a working width that ranges from about six inches to two feet (about 15-61 cm), weighing between 100 and 300 lbs (about 45-136 kg). These grinders generally cost between two and five thousand USD. Special variants able to grind ceilings tend to come with a small crane and are more expensive.