What are Common Citizenship Interview Questions?
When applying for citizenship to a country, certain legal documents and proof of eligibility for citizenship are required. In most countries, the application process includes a test of the language, history and social customs of that particular country. In the US, this test is accompanied by a naturalization interview, during which a person applying for citizenship proves eligibility status through some common citizenship interview questions.
At the start of the interview with a US Citizenship and Immigration Services officer, an applicant is placed under oath and asked a series of citizenship interview questions related to the forms he or she completed as part of the application process, as well as the documents used to support the statements. Even during the review of the forms, the interviewer is testing the interviewee for their knowledge of the English language and understanding of the forms that he or she has submitted.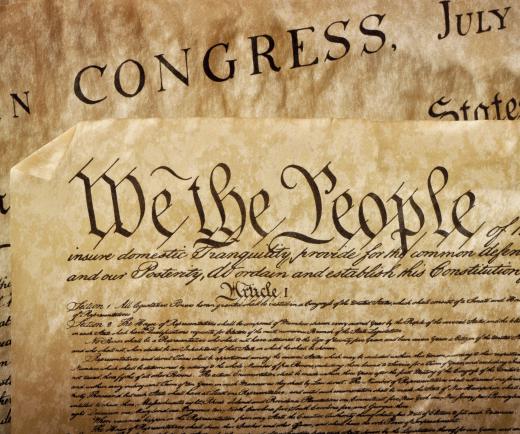 The interviewee is asked their legal name and to provide a legal residency card, state identification card, such as a driver's license, all expired or current passports, and proof of marital status. The interviewer then proceeds to ask the applicant a series of citizenship interview questions which may already be answered in the paperwork provided, such as date and place of birth, and employer information.
Additional citizenship interview questions might concern any trips outside the US and their purpose, criminal history, past marriages, or military service. During the interview, the applicant must swear allegiance to the US and support of the US Constitution. At the close of the interview, the applicant must sign a series of documents, and then proceed to written civics, reading and writing tests. In some cases, the testing will precede the interview.
Most countries do not have a formal interview process with citizenship interview questions, but rather a written test of in-depth knowledge of that country and its language. In England, for example, a person applying for British citizenship must take a test known as "Life in the UK". It is a 45-minute exam given by designated testing centers which focuses on British society and culture, and the history of the United Kingdom.
The US differs from most other countries in that a child born in the states is automatically given US citizenship status. Around the globe, citizenship to a child born to foreign parents is usually only granted after adulthood, after proving residency, or after stating intent to become a citizen.
AS FEATURED ON:
AS FEATURED ON:

By: klikk

Someone seeking U.S. citizenship must support the U.S. Constitution.

By: Jeanette Dietl

A person's date of birth will be asked during a citizenship interview.

By: Ferrante Pietro

Proof of marital status is commonly asked for during a citizenship interview.