What Are Chocolate Zucchini Muffins?
Chocolate zucchini muffins combine shredded zucchini with chocolate in a classic muffin recipe that is designed to add moisture and nutrition to an otherwise traditional treat. Muffins often have a large amount of surface area exposed to heat while baking, sometimes leading to the inside drying out if extra care is not taken. Adding shredded zucchini to the muffin batter is a way to introduce moisture into the muffin without overpowering the other flavors or creating an undesirable texture. Zucchini usually is added to the wet ingredients in the recipe and then incorporated into the flour and baked as usual, with the finely ground zucchini disappearing almost completely into the baked muffins. Common spices, such as cinnamon and nutmeg, are often included in chocolate zucchini muffins to accent the subtle taste of the vegetable while combining well with the taste of the chocolate.
There does not have to be a great amount of preparation of the zucchini before making the recipe. It generally is just shredded on a grater to make small, manageable grains. The liquid that is exuded can be included in the batter for additional flavor or it can be thrown away. In recipes that strive to be healthier, the zucchini is sometimes covered in a small amount of boiling water to create a lighter base for the dry ingredients and to reduce the amount of eggs or oil required.
Typical ingredients in the wet portion of chocolate zucchini muffins include eggs, oil and zucchini. Healthier preparations sometimes substitute low-fat yogurt for the oil and may use egg whites instead of whole eggs. Optional ingredients can include vanilla extract, coconut milk or a small amount of rum to accent the spices.
The dry ingredients in chocolate zucchini muffins are similar to classic muffin ingredients, even in proportion. Flour, sugar, salt and baking powder create a fairly standard base. Cocoa powder is often used to add the chocolate flavor, even if melted chocolate or chips will be added later. The spices added include cinnamon, nutmeg and cardamom, although these can be left out completely, depending on the taste of the cook.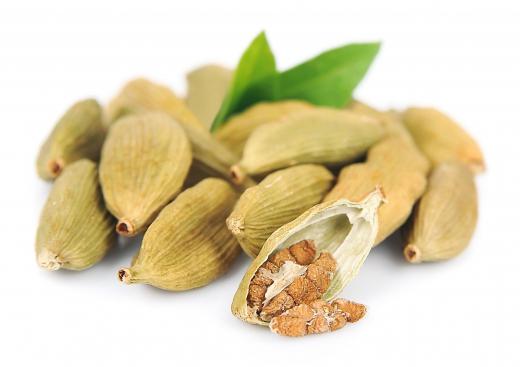 All the ingredients are combined and poured into a greased muffin pan for baking. Completed chocolate zucchini muffins can be surprisingly rich and should be very moist on the inside. When the muffins are broken open, the zucchini may be completely undetectable or it may appear as small translucent bits. The muffins can be topped with sugar, nuts or even chocolate frosting.


Raw sliced zucchini.

By: fotomatrix

Zucchini prior to slicing.

By: Thomas Francois

Chocolate zucchini muffins are often seasoned with nutmeg.

By: margo555

Cardamom is a common ingredient in chocolate zucchini muffins.

By: Andris T

Squares of dark chocolate.