What Are Chocolate Pumpkin Muffins?
Traditionally, chocolate pumpkin muffins are muffins with pumpkin puree mixed into the batter and studded with chocolate chips. Some chocolate pumpkin muffins combine pumpkin and chocolate batters to create a marbled effect. These baked goods are popular in the autumn, especially around Halloween, because pumpkins come into season at that time. The black chocolate and orange pumpkin also provide these muffins with traditional Halloween colors.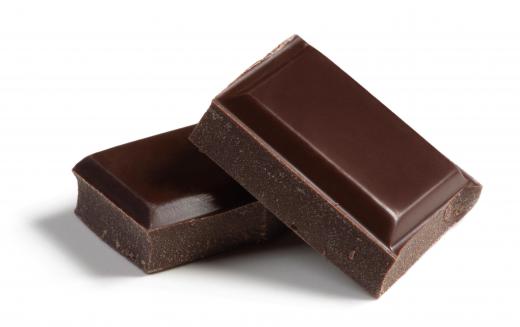 Most chocolate pumpkin muffin recipes start with unflavored muffin batter. A large amount of pumpkin puree not only adds most of the flavor, it also gives the batter density and moisture. For this reason, most chocolate pumpkin muffins are low in fat because they don't require much butter or oil. Pumpkin puree also contains a variety of vitamins, minerals, and fiber necessary for healthy body functions.
When adding chocolate to chocolate pumpkin muffins, bakers generally have three choices. Some choose to simply stir chocolate chips or pieces into the pumpkin batter. Others prefer to make chocolate batter and gently fold the two together for marbled muffins. A third option involves using both batters and chocolate chips for an especially decadent dessert muffin. Even this third option can be low in fat if the baker uses applesauce or pumpkin puree in the chocolate batter, along with dark chocolate cocoa powder and chips.
Marbling batters can take some practice. For muffins, it may be best for the baker to make the batters separately, in mixing bowls with pour spouts. The baker must then pour a little of each batter into the muffin cups and gently swirl them together with a toothpick or thin knife. Those adding chocolate chips to marbled chocolate pumpkin muffins should typically sprinkle the chips into each muffin cup separately and mix them in when mixing the batters together.
Some chocolate pumpkin recipes call for pumpkin pie spice mix, cinnamon, or other spices to help bring out the pumpkin flavor. Other ingredients that might help the muffins taste more like pumpkin include a few drops of vanilla extract, hazelnuts, crunchy cinnamon candies, and caramel chips. Wheat flour may also be a tasty and healthy replacement for white flour in chocolate pumpkin muffins, and the nuttiness of the wheat often underscores subtle flavors like pumpkin.
Halloween-themed chocolate pumpkin muffins can be a festive, fun addition to a holiday party spread. Bakers can include miniature peanut butter cups, candy corn, and caramel melts in their muffins, turning each one into its own treat bag. Decorations using candy corn and chocolate licorice string can also help make Halloween jack o' lantern faces on top of each muffin.


By: ulchik74

Pumpkins.

By: Andris T

Chunks of dark chocolate can enhance the flavor of pumpkin cupcakes.

By: m.u.ozmen

Whole wheat flour may be used in place of white flour for healthier chocolate pumpkin muffins.