What are Chocolate Covered Pretzels?
Made from crisp pretzels dipped into melted chocolate, chocolate covered pretzels are the ultimate combination of salty and sweet flavors. Although no one seems quite sure where the idea originated, these treats are a big part of the American lifestyle. They are sold in grocery stores, bake sales, and fine chocolate shops. Chocolate covered pretzels can range from the very basic to the very extravagant.
Many pretzel varieties can be used to make chocolate covered pretzels. A thicker pretzel, like a rod, preserves more of the salty pretzel taste, as the ratio of pretzel to chocolate is higher. Using a smaller pretzel, most commonly small twists, results in the opposite. There is proportionally more chocolate which means a sweeter tasty. Rods also have more of a crunch to them than their smaller cousins, and they looker more decorative. They are also easier to eat without getting melted chocolate all over your hands, as one side is usually left un-dipped. Peanut butter filled pretzels can also be dipped in chocolate.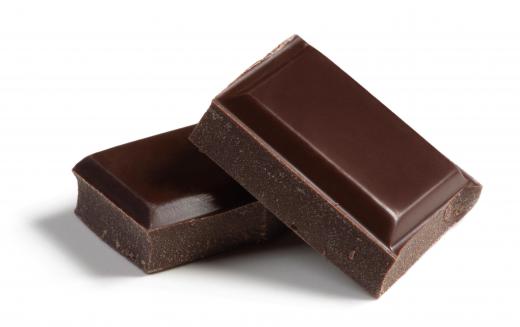 Chocolate covered pretzels can be dipped in any type of chocolate. Milk chocolate is the most popular choice, followed by dark and white chocolate. Flavored chocolate is another option, although it is harder to find. Made by mixing flavorings, or actual ingredients, into the melted chocolate, this creative option for chocolate covered pretzels makes a classic snack even better. Possible flavors include strawberry, orange, raspberry, peanut butter, and peppermint, but any flavoring that combines well with chocolate can work. Actual small fruit or candy pieces can also be mixed in, adding something extra to the quality and taste of the pretzel. This can make for a very beautiful affect in white chocolate pretzels.
After dipping pretzels into the chocolate, they can either be left plain or be coated in an outer topping. Popular favorites here include colorful candy sprinkles and crushed nuts. Other options are crushed chocolate cookies or peppermint candies. You can also use other varieties of chopped candy.
Pretzels may also be drizzled with different toppings. Another layer of chocolate, usually a different kind than the pretzel was originally dipped in, is one choice. Other choices include peanut butter or caramel.
Chocolate covered pretzels are easy to make at home. Melt chocolate candies, dip in some pretzels, and enjoy. This treat is great to give for the holidays, birthdays, and as a hostess gift. They are also great for parties and other get-togethers. With a sweet chocolate outside, and a crisp pretzel inside, it's easy to understand why chocolate covered pretzels are such an American favorite.
AS FEATURED ON:
AS FEATURED ON:

By: Andris T

Dark chocolate can be melted and poured over pretzels.

By: michelaubryphoto

Dipping smaller pretzels in chocolate results in a particularly sweet taste.

By: VIPDesign

Crushed peppermint candies may be used as a topping for chocolate covered pretzels.