What Are Cheesy Scalloped Potatoes?
Cheesy scalloped potatoes is a baked dish that consists of potatoes, onions, and cheese combined with flour, butter, and milk or cream. There are many recipes for this dish, and there are a couple of different methods used to prepare it. A variety of cheeses can be used, depending on personal preference. A number of food companies sell boxed versions of cheesy scalloped potatoes, which typically contain dehydrated potatoes and powdered cheese, and can be prepared quickly and then baked.
When making cheesy scalloped potatoes, the potatoes are cut into thin slices. The skin of the potato can be removed or left on. Any type of potato can be used when making this dish. To speed up the baking time of the scalloped potatoes, the slices can be boiled for five to seven minutes and well drained before being placed in the baking dish.
The two main methods for preparing cheesy scalloped potatoes involve either layering all of the ingredients and then pouring the milk and cream into the baking dish, or making a homemade cheese sauce on the stove and pouring it over the potatoes. With the layering method, the potatoes are placed in a greased baking dish and then topped with onions, slices of butter, flour, and grated cheese. Each layer is repeated until the baking dish is full, then the milk or cream is added. If the sauce is prepared before topping the potatoes, a roux is made with butter and flour, and then the milk or cream and cheese is added and cooked until the cheese is melted. This creates a sauce which is poured over potato slices in the buttered baking vessel.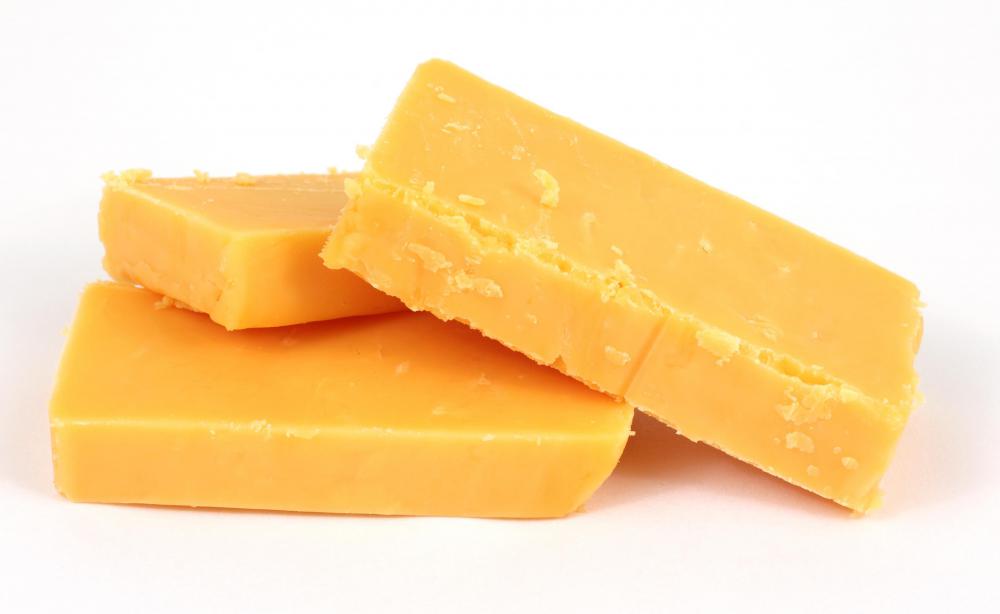 Cheese is an important ingredient in cheesy scalloped potatoes. In traditional recipes, cheddar cheese is usually called for. Other types of cheese — such as Swiss, goat, Colby, blue, or Gruyere — can be used to create a different taste. Some people prefer to use a combination of several different cheeses when making this recipe. After the dish is baked, the cheese should be melted and creamy throughout the dish, but crispy on the top.
Several food manufacturers produce a boxed version of cheesy scalloped potatoes. Some people use these convenience foods to reduce preparation time for this dish. The boxed version usually contains pre-sliced, dehydrated potatoes and a powdered cheese sauce that is mixed with milk and butter. Choosing to make scalloped potatoes from scratch or preparing a boxed version is a matter of personal preference.