Capri pants are a shorter-length garment worn by both men and women during warmer months. Originally, they tended to fall just above the ankle but eventually became available in many different lengths. The exact length of Capri pants varies between different designers or clothing companies, and can fall anywhere from right above the knee to just above the ankle with a side slit on the bottom of both pant legs.
These pants typically are available in many different fabrics, including cotton, denim, polyester, linen, and leather. They may also be made in spandex blends to be worn while exercising and are a popular style for people who practice yoga. There are many different ways in which the pants are made — for example, some have large cargo pockets, some are plain, and some have a drawstring closure at the waist. The fit of the pants can range from a loose, relaxed fit that might pair well with flip-flops or sandals to a tighter, more formal fit that could be worn with high heels on a night out.
The term "Capri pants" came from the island of Capri in West Italy where the style was first introduced. This fad made its way to the United States and became highly popular throughout the country after being worn by many Hollywood stars in movies. After the bell-bottom and spandex-legging craze, Capri pants made a comeback in the late 1990s. A type of black, tight-fitting Capri pants was made popular in the 1950s by actress Audrey Hepburn after she wore a pair while dancing in the movie "Funny Face." A renewed love for these "skinny" black pants was sparked in 2006 by a GAP® commercial that showed the dancing clip in sync with an AC/DC song.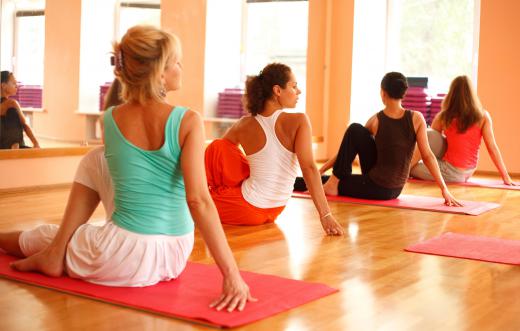 Shorter-than-average pants have been labeled with many different names over the years. Some residents of the New England region of the United States call them "clam diggers," since the short length could keep the pants dry while harvesting clams during low tide. Another term used for cropped pants is "pedal pushers," since these pants are less prone to tangle in bicycle parts. Pedal pushers did not originally have the same slit on the leg as Capri pants but over time, most pants that are not full length have been put into whichever category each individual is familiar with.
The United States is not the only county with residents who love Capri pants. American travelers venturing to Europe are encouraged to purchase a few pairs since these pants are much more popular there than are shorts. Capri pants typically can be purchased in either brick-and-mortar stores or at outlets on the Internet.
AS FEATURED ON:
AS FEATURED ON:

By: Nikolai Sorokin

More formal capris can be worn with heels.

By: furmananna

Capri pants made with a spandex blend are popular in yoga.

By: Perseomedusa

In the United States, Capri pants gained popularity in the 1950s when actress Audrey Hepburn wore a pair in the movie "Funny Face."