What are Breach of Contract Defenses?
Breach of contract defenses are legal defenses a person may raise when an opposing party claims he has committed a breach of contract. The defenses a court considers valid may vary from jurisdiction to jurisdiction, but often include such things as mental incompetence, pressure to sign, and fraud. If one of the parties who signed the contract prevented the other from fulfilling his contractual duties, this may be a defense for breach of contract as well. Additionally, if both parties agreed to the changes or a party to a contract seemed to accept the breach, a defendant may also use this as a defense in court.
If a party breaches a contract, the other party typically has legal remedies he can apply. For example, he may want to cancel the contract or sue the opposing party for damages he suffered because of the contract breach. In some cases, the party who was responsible for the contract breach will have to pay damages or suffer other legal consequences. Alternatively, however, he may use breach of contract defenses to win the court case.
There are many defenses for breach of contract a person may raise. For example, he may claim that part or all of the contract was unlawful. He may also claim that the opposing party entered into it fraudulently. If the party was forced to sign the contract or pressured into it, he may also use this as a defense. If the terms of the contract were impossible to perform or one contractual party prevented the other from performing as required, these may be valid breach of contract defenses as well.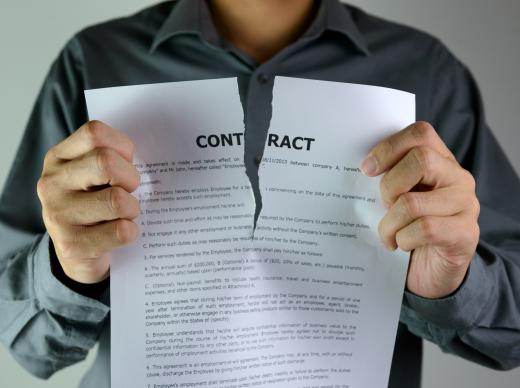 One of the most commonly used breach of contract defenses is the agreement of the two parties. For example, if both parties agree to changes in a contract, one of the parties may still change his mind later. If that party, who would become the plaintiff in a court case, then tried to claim a breach of contract, he would be unlikely to win his case. This is because the opposing party could defend himself against the claim by proving that the plaintiff agreed to the change.
Another example of a breach of contract defense is incompetence. For example, if a mentally incompetent person signed a contract but failed to live up to the obligations listed within it, he may not be held responsible for a contract breach. His legal representation may prove to the court that he was not mentally capable of understanding or agreeing to the contract. When proof of this breach of contract defense is presented, the plaintiff's breach of contract claim is often dismissed.
AS FEATURED ON:
AS FEATURED ON:

By: NAN

A lawyer can review a contract to determine if a breach of contract defense would be plausible.

By: Kenishirotie

A contract may stipulate that parties must abide by certain terms in order for a contract to be valid.