What Are Banana Oat Muffins?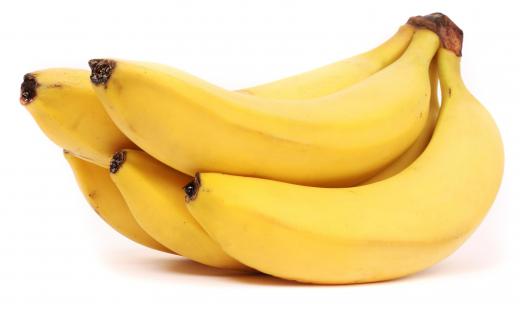 Banana oat muffins are a type of sweet baked food; they use bananas as the main ingredient to provide sweetness, nutritional value and moisture. The oats that are added to the muffins help to provide some structure and texture while increasing the amount of fiber the muffins contain. Recipes for banana oat muffins range from very traditional methods that call for the addition of flour, oil, milk and sugar, to more health conscious versions that use ingredients such as almond milk, applesauce and oats or oat flour with no wheat flour added. Although banana oat muffins can be enjoyed with just the basic flavorings, many preparations call for the addition of nuts such as walnuts or almonds, or dried fruits such as cranberries or raisins.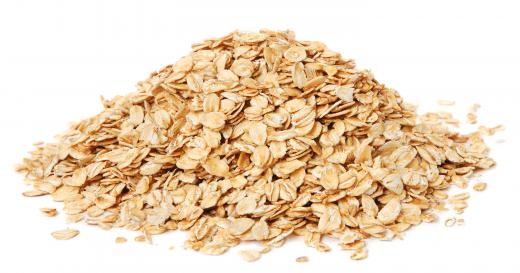 The bananas used in banana oat muffins usually are incorporated into the batter after being mashed so there is an even distribution of banana flavor and a smoother texture. Frozen bananas can be used in the batter if they are roughly chopped, giving the final muffins small pockets where larger banana pieces remain mostly intact. Alternately, if the bananas are very ripe, they can be placed directly into a food processor along with the other ingredients in the recipe and mixed into the batter.
Basic ingredients for traditional banana oat muffins include flour, oil, eggs, sugar, rolled oats and milk. The ingredients are mixed together until a batter is formed, after which the mashed or chopped bananas are added. The oats that are included will soak up some of the milk and help to act as a binder to hold the muffins together. The mixed batter can be placed in muffin tins or cups and baked until set and browned on top.
There are fair amounts of vitamins and other nutrients — especially potassium and fiber — in bananas and oats, so some recipes for banana oat muffins have focused on making the entire muffin more healthy overall. One way this is done is by eliminating bleached white flour in favor of oat flour or rolled oats that have been ground in a food processor. Another substitution that can be used to increase the amount of nutrients in the muffins is to replace the oil with applesauce, and the milk with water, fruit juice, almond milk or soy milk.
The sweet taste of the bananas in banana oat muffins can be complemented by the addition of toasted walnuts or slivered almonds. Ingredients such as yogurt or sour cream also can be added to deepen the flavor and help to preserve the moisture the oats will readily soak up. White sugar can be replaced with brown sugar, molasses or honey to reduce the sharp sweetness in the muffins.


Bunch of bananas.

By: eAlisa

Oats.

By: airborne77

Oat flour, which can be used to make banana oat muffins.

By: rimglow

Applesauce, which can be used to make banana oat muffins.