Banana cookies are baked, individual desserts made with mashed ripe bananas. They are an alternative to banana bread for baking something sweet that also uses up overripe bananas. Most banana cookie recipes call for the batter to be spooned, or dropped from a spoon, onto a baking sheet. These drop cookies often vary in the exact ingredients they contain, but all of them include mashed banana.
Even bananas that have turned very dark brown in color may be used to make these cookies. There should never be any sign of mold though. Overripe bananas add much more flavor to baked goods than just ripened yellow or green-yellow fruit. Some bakers like to add other fruits such as apples or raisins to banana cookies. Dates and dried apricots are other popular fruit additions to banana cookie recipes.
Like most other types of cookies, those made with mashed bananas require the dry ingredients to initially be kept separate from the rest. Flour, baking soda and salt are among the most common dry ingredients used to make banana cookies. Some recipes use rolled oats rather than flour; after the dry ingredients are well blended in a bowl to be set aside, butter and sugar are then creamed together separately. A sugar-free banana cookie recipe without artificial sweeteners added may call for unsweetened applesauce rather than sugar. Some cookie recipes may use oil rather than butter.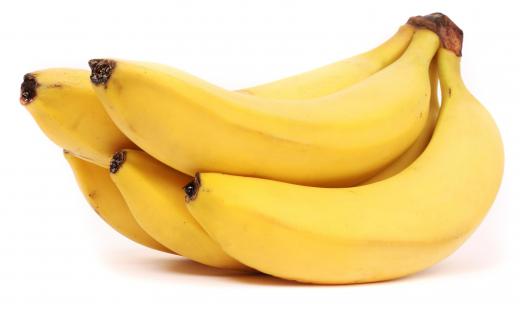 Vanilla and beaten eggs are typically stirred into the creamed butter-sugar mixture when making banana cookies. Some bakers like to add a little cinnamon or a small amount of lemon juice at this point in the recipe. If the banana cookie batter is too thick, milk may be used to thin it. Since banana cookies are of the drop variety, the dough has to be of the right consistency to be spooned onto a baking sheet.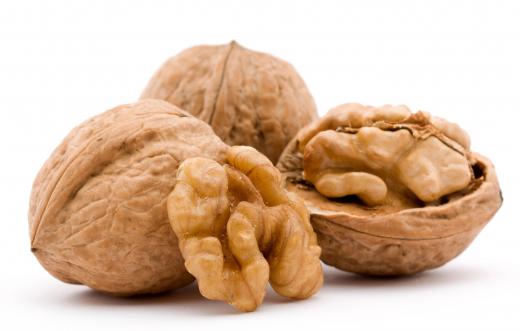 Nuts are a popular addition to banana cookie dough. Walnuts, almonds and pecans are common favorites. Lightly toasting these before chopping them to stir into the dough can make the banana cookies even more flavorful and crunchy. For a softer nutty banana cookie, peanut butter may be added instead of chopped nuts.
Chocolate chips or chunks added to the recipe create a popular variation. Many people like the combining flavors of chocolate and banana. Chocolate-banana cookies may use cocoa powder or chocolate chips or chunks. It's also possible to top a banana cookie with chocolate icing or glaze.
AS FEATURED ON:
AS FEATURED ON:

Banana chocolate chip cookies.

Bunch of bananas.

By: dinostock

Walnuts are a common addition to banana cookies.

By: Volodymyr Shevchuk

Other fruits, such as dried apricots, may be added to banana cookies.

By: Gajus

The dough of banana cookies has to be the right consistency before it can be placed on the baking sheet.

By: mitrs3

A sugar-free version of banana cookies can be made by replacing sugar with applesauce.