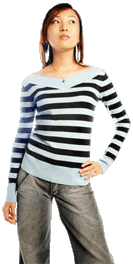 Arm warmers are a type of fingerless gloves that are worn both for fashion purposes in cold weather, as well as for more practical purposes such as when cycling. They typically cover the hands and the bottoms of the fingers, and generally reach midway up the forearms, ending well below the elbows. Arm warmers are popular items of clothing that may be purchased or handmade.
Arm warmers are typically made of cotton or polyester, and may be knit, crocheted, or even made in a fishnet pattern. They are available in many different colors, but typically in a one size fits all size, unless they are handmade. Arm warmers may be purchased in stores, or knit from a pattern; many patterns are available for free or for a small fee online. The gloves are typically sold during the colder seasons.
Arm warmers are popular in the fall and winter, when the weather is cooler. Some styles may be lined with fleece for extra utility and warmth, while others may simply be knit. People often wear these warmers with long sleeved shirts, and often do not take them off when going inside, as one would take gloves off when going inside. These warmers are considered to be very fashionable, and also leave the hands free to do other things, such as to type, for example.
Arm warmers may be made in many different patterns. Cable-knit are quite popular, as they are designed to resemble small sweaters for the hands. Some are available in a set with a matching hat and gloves, which can give one a nice, cohesive look. A set like this could also make a nice holiday gift for a friend or family member; neutral colors such as gray or black often look best in the winter.
Arm warmers made for cycling are generally tighter and thinner than those for fashion. They are used to keep the hands warm while cycling in cold weather, but to still allow the fingers to manipulate the gears and breaks of the bicycle safely. These may be found in fitness stores or ordered online, and are typically not handmade. Keep in mind that when wearing this type of gloves while cycling in very cold weather, it is still important to monitor the hands for frostbite. Be sure the fingers do not turn white, and if they do, go inside and warm up; the finger should turn red again relatively quickly.
Woman with hand on her hip