What are Antihypertensive Drugs?
Antihypertensive drugs are medicines that help reduce abnormally high blood pressure or hypertension. They're also sometimes called blood pressure medications and they may be used to treat more than one symptom of cardiovascular disease. Typically, these medicines are split into a number of subgroups that are defined by the way they act to reduce blood pressure. The type of antihypertensive drug most recommended will differ from patient to patient and is a good topic of conversation between patients and their doctors.
The groups of antihypertensive drugs might include medicines called alpha and beta-blockers, angiotensin or ACE inhibitors, calcium channel blockers, vasodilators, and diuretics. A few other classes are angiotensin receptor blockers, central agonists, and sympathetic nerve inhibitors. Several medications may belong to the same class, and each class is defined by its action.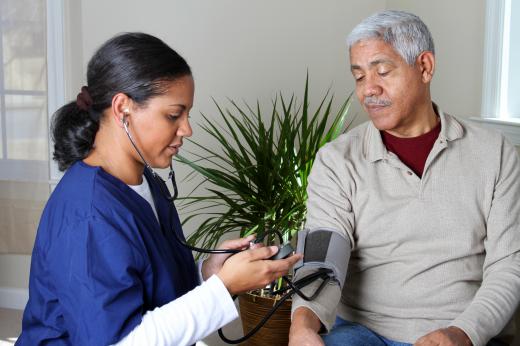 Alpha and beta-blockers act differently from each other. Beta-blockers, which are commonly prescribed, bring down heart rate so the heart works less, and this may reduce the flow of blood into and out of the heart, causing blood pressure to drop. Alpha-blockers target the arteries and how stiff or resistant they may be. By lowering stiffness, blood flows more smoothly and blood pressure could be reduced. Sometimes antihypertensive drugs include both an alpha and beta-blocker to take advantage of this combined action. Carvedilol is an example of a combined alpha and beta-blocker.
Somewhat similar to beta-blockers are vasodilators, which also cause blood vessels to relax. Medicines falling in this class include minoxidil, which may be better known for its attributes as a topical medicine for hair loss. Central agonists pose another solution, reducing blood vessel tension. Other antihypertensive drugs don't target the blood vessels but instead effect how the body removes liquids. Diuretics speed the process of removing fluids from the body, in the form of urine, and may reduce blood pressure by lowering fluid volume.
Some antihypertensive drugs prevent certain actions of the body. Calcium channel blockers prevent calcium from migrating into the heart's cells, and this lowers heart beat force. Blood vessels also relax when these medicines are used. ACE inhibitors lower the body's production of angiotensin, which can result in narrowing blood vessels and higher risk of hypertension. In contrast, angiotensin receptor blockers prevent angiotensin from binding to certain cells, and this causes less restriction of the blood vessels.
There is possibility that many of these medicines could be combined, and the right choice for each person depends on other medical conditions, especially other cardiac conditions. Another consideration is patient tolerance of antihypertensive drug therapy, and it can be said people will have different side effects that are individually based and that depend on the type of medication taken. It's best to discuss with a physician expected types of side effects with each group of medicines and warning signs that a medicine might not be working properly or is causing an adverse reaction.
AS FEATURED ON:
AS FEATURED ON:

By: Rob

Antihypertensive drugs are used to lower blood pressure.

By: Monkey Business

High blood pressure, also known as hypertension, is diagnosed when a person's blood pressure readings regularly exceed 140 over 90.

By: dambuster

Generally, doctors recommend resting blood pressure levels be below 120/80.

By: maska82

Some antihyperintensive drugs may be used topically to treat hair loss.

By: Alexandr Mitiuc

Hypertension is caused by large amounts of blood pumping heavily against the arteries, which may begin to narrow and weaken.

By: hriana

Antihypertensive drugs may be used to treat more than one symptom of cardiovascular disease.