What Are Anodized Fasteners?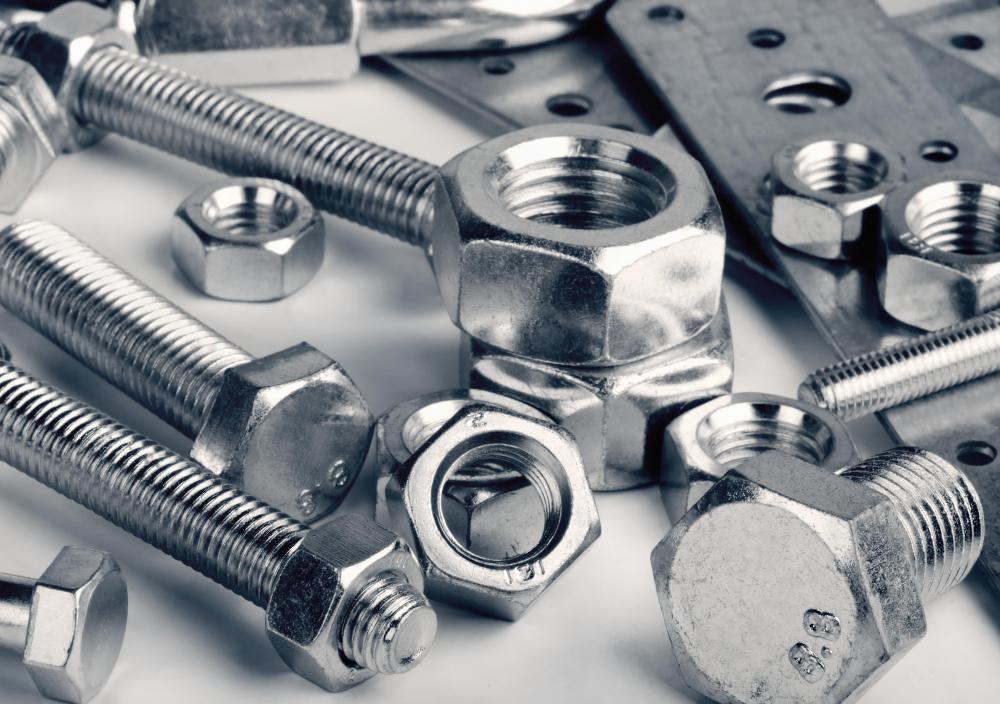 Fasteners can include nuts, bolts and washers that are used to connect metal parts. They are used as connectors in vehicles, aircraft and boats. Aluminum metal can be soft, making it difficult to use for fastening objects, because the untreated metal can deform or break. A process called anodizing creates a much harder metal finish, and anodized fasteners are both strong and resistant to wear or corrosion.
Anodizing is an electrochemical process, using both electrical current and an acid chemical bath, to create a hard finish on anodized fasteners. The process involves creating a layer of aluminum oxide on the outer surface of the parts. Rather than a coating such as paint, the anodized finish is a molecular bond to the aluminum metal beneath, which results in a very durable finish.
The process uses an acid bath, which provides oxygen for the chemical reaction. Anodized fasteners are connected to one side of an electrical circuit, and a separate metal electrode is submerged in the bath. When the parts enter the acid, an electrical circuit is established and the aluminum parts are oxidized at the surface to form aluminum oxide.
Anodizing involves the rapid oxidation, or rusting, of the aluminum surface of the parts. Unlike normal rust, the aluminum oxide forms a very thin, hard crystal structure that becomes a new surface. These surfaces may wear off over time, but can provide long service life with minimum deterioration, particularly when compared to pure aluminum.
It is important when fastening metals to use the same metals for all parts, to avoid galvanic corrosion. This occurs when a small electrical current passes between different metals, and softer metals like aluminum can be more quickly damaged by galvanic action. In addition to strengthening the metal, anodized fasteners are less subject to galvanic corrosion, because the aluminum oxide finish can block the electric current.
Anodized fasteners are often used to customize automobiles, and one reason is that the anodized finish can easily be colored to suit the user. The aluminum oxide finish is porous, which means it contains many small voids or openings, rather than being perfectly smooth. These voids can accept dyes or colored pigments, allowing the parts to be customized in a wide variety of colors. The color becomes a permanent part of the coating, and no further painting is needed to maintain it.
Other metals can be anodized, including titanium, which improves their corrosion resistance in aircraft applications where parts are exposed to wide ranges of temperature and humidity. Different acid solutions can be used to provide a range of oxide coatings, depending on the part specifications. Sulfuric acid is the most common type of anodizing, and can create both thin and relatively thick coatings. Chromic acid is used when very thin coatings are needed, particularly for parts requiring a very tight fit, known as close tolerances.
Fasteners can include nuts, bolts and washers that are used to connect metal parts.