What are Acidophilus Side Effects?
Acidophilus is a dietary supplement that is taken to promote healthy intestines. Most acidophilus side effects are short-lived, relatively mild symptoms such as excessive flatulence, trapped gas or bloating and should not be a source of worry. Side effects of acidophilus are not common, and most people are able to take acidophilus with no reaction at all. Some people, however, might experience more severe side effects because of allergic reaction or infection.
The overwhelming majority of people experience no acidophilus side effects at all. For those who do, minor gastric complaints are the most common. Acidophilus not only produces gases such as hydrogen and methane in the digestive tract, it also can inhibit the growth of other bacteria that absorb these gases. This imbalance usually corrects itself within a day or two, and those experiencing prolonged symptoms should consult with a medical professional.
Some people might also experience flu-like acidophilus side effects such as fever and nausea and might have to deal with gastrointestinal symptoms such as bloating and diarrhea as well. As the acidophilus kills off other bacteria, toxins might be released and can trigger these side effects. People experiencing this spike in toxins, called a herx reaction, might feel quite unwell, but this reaction is short-lived and not dangerous.
More serious acidophilus side effects include allergic reactions. Those with a known allergy to milk or lactose should avoid acidophilus. Symptoms such as itching, rash, hives, dizziness or swelling of the lips, tongue or face indicate an allergic reaction. People allergic to acidophilus might experience difficulty breathing and should seek medical assistance immediately.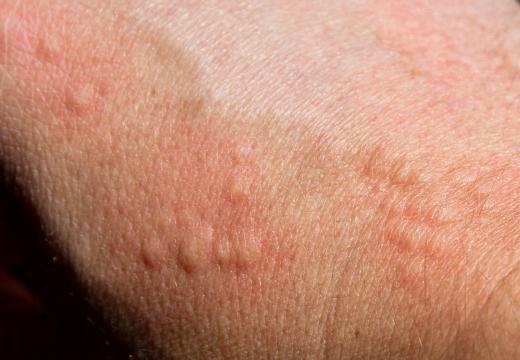 For those with a reduced ability to resist infection, such as people recovering from a recent infection or those with a naturally weak immune system, acidophilus side effects are a possibility as well. Although generally considered beneficial, acidophilus still is a bacterium, and it can infect a compromised immune system. People with recurring infections should consult with a doctor before using acidophilus.
Lactobacillus acidophilus, commonly known as acidophilus, is a bacterium normally found in the small intestine and the vagina. Acidophilus produces anti-microbial chemicals, such as acidolphilin, bacteriocin, lactocidin and acidolin, that help prevent the growth of harmful bacteria. Vitamin K and lactase also are produced by acidophilus. Acidophilus typically is considered a "probiotic" or "good bacteria" because of these benefits.
Acidophilus has been used to treat bacterial and fungal infections, to treat diarrhea triggered by antibiotics, to regulate bacteria occurring in the digestive tract and vagina and to promote general maintenance of good health. It should be noted, however, that there is some dispute regarding the effectiveness of acidophilus for any disease or medical condition, and no health benefits have been proven.
AS FEATURED ON:
AS FEATURED ON:

Sauerkraut contains acidophilus.

By: picsfive

Pitcher of acidophilus milk.

By: Jürgen Fälchle

An allergic reaction to acidophilus may include the development of hives.