Should I Use a Nail Polish Base Coat?
A nail polish base coat is a clear coat of polish that is applied to the nails before the colored nail polish. In general, it is a good idea to use a base coat, because it will help protect the nails and help the manicure to last longer, among other functions. Some base coats come in a bottle that claims to function as both a base coat and a top coat, but it is a good idea to purchase individual products designed for the purpose.
To use a base coat as part of an at-home manicure, first make sure your nails are clean and filed into the desired shape, and the cuticles are gently pushed back. Then, take a cotton swab with a bit of nail polish remover on it, and gently sweep it over the nail to remove any natural oils. These oils can make it more difficult for polish to adhere.
Next, apply the nail polish base coat. This coat of polish should be applied evenly over the entire nail, and it should dry quickly but remain slightly tacky. It should not usually appear shiny. After the base coat has been applied, one or two coats of nail polish can be brushed on, followed by a top coat designed to make the nails appear shinier and make them more resistant to chipping.
The base coat serves a number of functions. Many include ingredients designed to condition the nails, such as vitamin E or calcium; these can protect the nails from splitting or chipping, as well as encourage faster growth. In addition, a base coat helps prevent dark nail polishes from staining the nails. It also helps the nail polish to stick better to the nails, which may make the manicure last longer, and it may also make the nails appear smoother.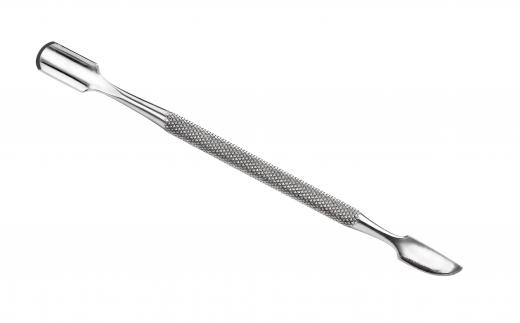 When getting a manicure at a salon, a nail polish base coat is almost always used. Base coats may be purchased at nail salons or at any drugstore or beauty supply store that sells nail polish. It is typically roughly equivalent in price and size to a bottle of nail polish. To keep a manicure looking fresh for a longer period of time, repair any chips in the color with a nail polish pen, wear gloves when doing any work that could damage the nails, and reapply a top coat every few days to keep nails looking shiny and pretty.
AS FEATURED ON:
AS FEATURED ON:

By: Africa Studio

A nail polish base coat.

By: Valua Vitaly

A nail polish base coat can help manicures and pedicures last longer.

By: Maksim Kostenko

Metal orange sticks are used to push the cuticles back.

By: terex

The nails should be shaped using a nail file before applying nail polish base coat.

By: Alliance

The base coat serves a number of functions.