Is It Safe to Combine Melatonin and Alcohol?
It's generally not a good idea to combine melatonin and alcohol. Although they're both sedatives, using them together can disrupt normal, healthy sleep. Drinking can also increase the side effects of melatonin, especially drowsiness and headaches. Despite this, melatonin supplements are sometimes recommended as a sleep aid during alcohol withdrawal. Each of these substances can also have side effects when taken on their own, so people should speak with a medical professional before using them.
Effects of Melatonin and Alcohol Together
Most people feel very drowsy when using these two substances together. They may sleep fitfully for a while, experiencing periods of wakefulness in between vivid nightmares. Some people don't feel sleepy at all, and instead feel like they've taken a stimulant. If a person does sleep through the night, he or she may wake up feeling hung over. Taking even low levels of melatonin and alcohol can cause common hangover symptoms, including headaches, muscle pain, and dehydration.
Effects of Melatonin
Melatonin is a chemical produced by the pineal gland that controls the natural cycles that signal the body when it is time to sleep and wake up. Insomnia and jet lag are often caused by an imbalance of this chemical, so taking it in supplement form can help correct this problem and promote sleep. Even when taken alone, this substance can have a range of side effects, including dizziness, nausea, and mood changes. Pregnant women, those trying to become pregnant, and children should not take it because of how it affects other hormones. It also raises blood pressure in some people, and so is not safe for those with hypertension.
Effects of Alcohol
Alcohol is also a sedative, but contrary to common wisdom, it often doesn't actually improve the quality of sleep. After it's ingested, the body responds by producing adrenaline — a powerful natural stimulant. This may result in disrupted sleep, or deep sleep for a few hours followed by wakefulness. Heavy drinking over a long period of time intensifies this effect and may disrupt the body's ability to produce melatonin.
Melatonin for Withdrawal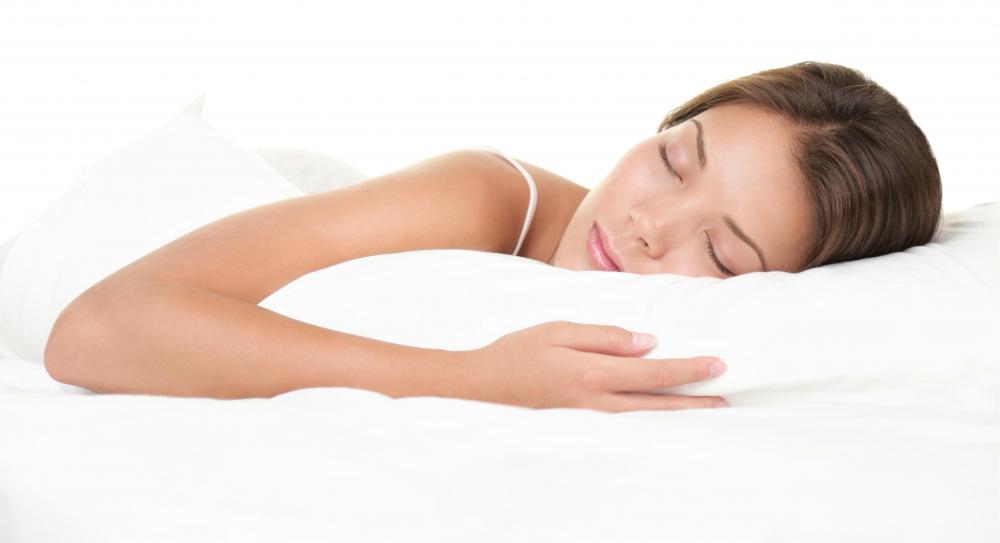 While using melatonin and alcohol simultaneously is not recommended, some research indicates that taking melatonin supplements may ease some of the symptoms associated with alcohol withdrawal, especially insomnia. Other experts caution against it, however, saying that dependence on sleep aids during withdrawal may prevent the body from re-learning how to sleep naturally. Anyone with alcoholism should seek medical advice about the best way to handle the effects of withdrawal before taking any supplements.
By: fotosmile777

Combining melatonin and alcohol may result in a severe headache.

By: Shakzu

People may experience vivid nightmares when combining melatonin and alcohol.

By: WavebreakmediaMicro

Mixing melatonin and alcohol may cause hangover symptoms.

By: Bert Folsom

Taking melatonin supplements and drinking alcohol can make some extremely drowsy.

By: Ariwasabi

Melatonin can help a person fall asleep.

By: Zerbor

Melatonin, combined with alcohol, may cause exceptional drowsiness.

By: Photographee.eu

Melatonin may ease some symptoms of alcohol withdrawal, most notably insomnia.