How Should I Choose the Best Foundation Makeup?
Foundation makeup, base, liquid makeup, pancake — whatever a woman calls it, the flesh-toned cosmetic that goes on first can make or break a woman's "look." With so many colors, kinds and formulas available, choosing the right foundation makeup can seem like an impossible decision.
A woman should first remember that foundation makeup is just that — the layer upon which all her other makeup will rest. How good her foundation makeup looks will determine how the rest of her cosmetics look, so she should keep in mind that foundation makeup is not meant to change the skin's color. It is meant to match the color as closely as possible. A woman with sallow skin should not attempt to "pink" her skin tone with a rosy foundation makeup, and a pale-complexioned woman should not attempt to "tan" hers with a bronze tone.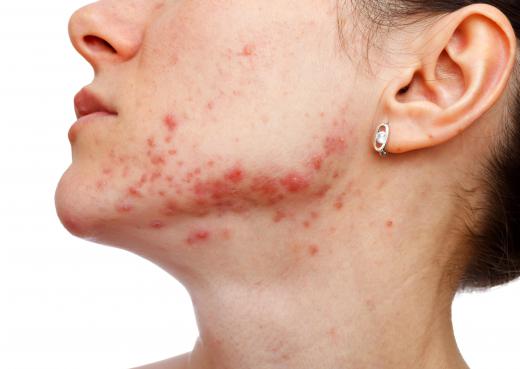 Bronzers are available to give skin a sun-kissed look, but these are usually in some kind of powder form and are meant to be used after makeup is applied. In any case, the woman should seek to match her skin's tone as closely as possible. If her foundation matches her skin, then her blush and powder will match, as well.
Foundation makeup is available in many forms: liquid, crème, stick, crème-to-powder, and so on. Liquid foundation makeup is the most commonly available and can be bought in department stores or in drugstores. Depending on the manufacturer and the purpose, these liquids can range from giving very light coverage to moderate coverage. Crème and stick foundations give moderate-heavy coverage, ranging to the consistency of spackle. Crème-to-powder varieties begin as a crème foundation and dry to a powder finish.
A woman should think carefully about what she wants her foundation makeup to do before she buys it. Foundation makeup can and will hide small wrinkles, for instance, but cannot work miracles. Also, foundation makeup that is applied too heavily will sink into the skin's crevices, further defining the wrinkles.
Formulas are available that claim to promote anti-aging and younger-looking skin. A woman will simply have to test these and see if she notices an improvement in her skin. Women should choose a foundation makeup with a sun protection factor (SPF) of at least 15, if she is not allergic to it. The sunscreen will help protect her skin from aging as much as any other formula. Light to medium coverage is usually the best route for most women.
Women should also be conscious of their skin type and what foundation makeup is best suited for it. Women with normal skin can wear almost any formulation. However, women with oily skin should look for a water-based foundation with no mineral oil, or mineral oil as one of the last ingredients. Women and teens with acne trouble can try a "clarifying" foundation meant for breakout-prone skin, but this formula can make bad matters worse if it dries out the skin too much. Women with dry skin should look for a hydrating or moisturizing foundation.
Sensitive skin requires special treatment. A woman should try brands that say they are hypo-allergenic or especially for sensitive skin. If the brand offers a sample pack, she should buy this first and test the makeup on an inconspicuous patch of skin to see if she has a reaction. She may not be able to use drugstore makeup, but may have to go with a hypo-allergenic department store brand. Samples of these are always available at the makeup counter, where she can try them before buying.
So — department store versus drugstore — which is better? It all depends on what a woman is looking for. If, as mentioned above, she has sensitive skin, the department store may be her only option. However, she may also not be sure how to choose a good foundation color, or may not really understand how to buy for her skin type.
This is when those associates at the makeup counters seem like angels from heaven. They usually do their best to make sure a woman has a good foundation that looks nice and is best for her skin. All this assistance and quality costs extra, however. However, the woman can buy one bottle of foundation from the department store and let it guide her decision if she wants to go to the drugstore the next time. She can just take her bottle with her and compare the colors with what she sees in the store.
A cosmetic counter associate will probably tell a woman how to apply her foundation, but a few tips never hurt. Fingers are good, but only with light coverage. For heavier coverage, use a makeup sponge.
Also, make sure the makeup is blended in well at the jawline. Otherwise, the woman will look as though she has a mask on. However, when the foundation closely matches the skin tone, this is rarely a problem. "Feather" the foundation at the edges and around the eyes, so the makeup will not creep into any folds.
Since foundation is so important to how a woman's makeup looks, she should choose her base carefully. Thinking about skin tone, type and coverage needed will help her make the best decision.
AS FEATURED ON:
AS FEATURED ON:

By: Ocskay Bence

A "clarifying" foundation might be an option for women with acne.

By: sunabesyou

Foundation makeup comes in many forms, including pancake and liquid.

By: javiercorrea15

Foundation acts as a canvas for other makeup, like blush and powder, to be applied.

By: armina

Some foundations purport to be anti-aging and to give the skin a more youthful appearance.

By: Vera Kuttelvaserova

Applying foundation too heavily can bring attention to wrinkles.

By: Africa Studio

Women with oily skin should avoid mineral oil or products containing it.

By: luiscarceller

People who have dry skin may want to use moisturizer before applying foundation makeup.

By: mikelaptev

Foundation is widely used and highly valued by makeup artists.