How Effective Is Valacyclovir for Herpes?
Valacyclovir for herpes is effective in treating various strains of the virus including chicken pox, genital herpes, shingles, and cold sores. In addition, taking valacyclovir for herpes can help treat herpetic rashes and blisters, and reduce the incidence of outbreaks, however, it does not cure herpes. The herpes virus is not curable, but it does remain dormant in the human body and may never recur. It can become reactivated under times of stress or illness, though.
The standard dosage for treating shingles is typically 1,000 mg, three times daily, and the typically dosage for treating cold sores is usually 2,000 mg, twice daily. Dosing for genital herpes depends upon whether the outbreak is an initial outbreak or a recurrent one, or if the medication is being used to prevent outbreaks in the future. The valacyclovir dosage for treating chicken pox depends on the weight of the patient. Other factors influencing the dose are age, current medical conditions, and other medications being taken.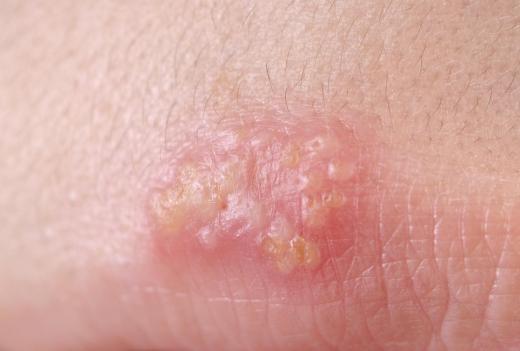 Taking valacyclovir for herpes can dramatically improve symptoms, but side effects can occur. Side effects may include nausea, headache, stomach pain, and painful menstrual cramping. In addition, vomiting, joint pain, depression, and an elevation in liver enzymes may also occur. When these side effects occur, the health care provider can determine whether its safe to continue treating the virus with valacyclovir.
Rare, but serious adverse reactions may include difficulty breathing, chest pain, abnormal swelling, and kidney failure. When these side effects are noticed, the medication should be immediately discontinued and emergency medical treatment should be sought. Taking valacyclovir for herpes may not be safe for pregnant women or women who are nursing a child. Nursing mothers may risk passing the medication on to their children through breast milk. A woman's health care provider can make a recommendation about whether to use valacyclovir for herpes based upon the risks and benefits of treatment.
AS FEATURED ON:
AS FEATURED ON:

By: uwimages

A blister caused by herpes type 1.

By: Photozi

Valacyclovir is effective in treating chicken pox.

By: iko

Nausea and headaches are common side effects when taking valacyclovir.

By: Gina Sanders

Individuals with genital herpes are able to donate blood as long as they are feeling well.

By: Peter Atkins

Condoms may not necessarily protect against genital herpes.