How Effective Is Trazodone for Insomnia?
Using trazodone for insomnia came about because one of its side effects is drowsiness. In spite of its long use as a prescription medicine to treat depression, the scientific community is split on whether using trazodone for insomnia is effective. Many doctors routinely prescribe it as a treatment and believe it is an effective drug for insomnia based on their clinical experience. Sleep scientists and other physicians, though, cite a lack of scientific studies on the use of trazodone for insomnia, doubt its effectiveness, and strongly recommend against using it for this purpose due to its side effects.
Interestingly, most individuals on both sides of this debate can agree that if a patient is depressed, using trazodone for insomnia can be an effective treatment. It is recognized by the medical community that insomnia is a side effect of some antidepressant drugs, even if taken early in the day. Since trazodone induces drowsiness and is an antidepressant itself, it can be an effective choice for patients suffering from both depression and insomnia. Some physicians no longer prescribing trazodone as an antidepressant have found it effective in treating insomnia caused by other antidepressants.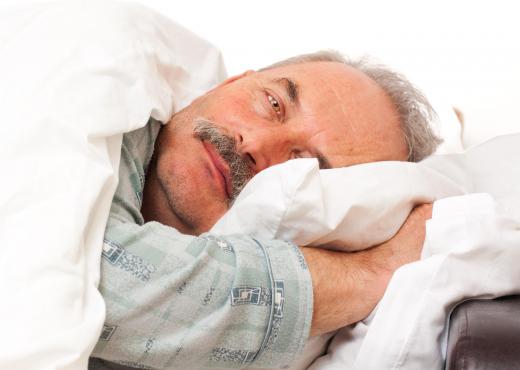 According to sleep research, there are three kinds of insomnia: onset, middle and late. Sleep onset is difficulty falling asleep, while middle insomnia is difficulty staying asleep. Late insomnia is difficulty falling back asleep after waking early. In the body, trazodone has a half life of about three to six hours. Due to this, using trazodone for insomnia is most effective when used for either sleep onset or middle insomnia.
Evaluating the effectiveness of using trazodone for insomnia is hampered by the lack of scientific studies. In their absence, many physicians believe their clinical experience with patients, which indicates trazodone is an effective treatment for insomnia. Trazodone, given its age as an antidepressant, has been supplanted by newer drugs for that condition; it remains, though, a popularly prescribed treatment for insomnia since many medical doctors believe that it helps their patients. As with other prescription drugs, trazodone has side effects, and individuals interested in using it for insomnia should consult their doctors for an evaluation of which drug or treatment best suits their needs.
Trazodone is a pharmaceutical drug that came on the market in the early 1980s and is classified as an antidepressant. It works to alleviate depression by blocking the reuptake of serotonin so that more of this chemical is available for use by the nerves in the central nervous system. As an antidepressant, it was not developed for the treatment of insomnia.
AS FEATURED ON:
AS FEATURED ON:

By: Sandor Kacso

One of Trazodone's side effects is drowsiness, which led to it being used to treat insomnia.

By: Alexander Raths

Trazodone is seen as an effective sleep aid for people suffering from depression.

By: Photographee.eu

The scientific community is split on whether using trazodone for insomnia is effective.

By: themalni

Trazodone, also marketed as Oleptro, is classified as an antidepressant drug.

By: Andres Rodriguez

Developing relaxing bedtime rituals, such as reading, is one natural way to combat insomnia.

By: oporkka

Taking trazodone during the day could lead to drowsiness at work.

By: ChenPG

People with insomnia may feel fatigue throughout the day.