How Effective Is Adapalene for Acne?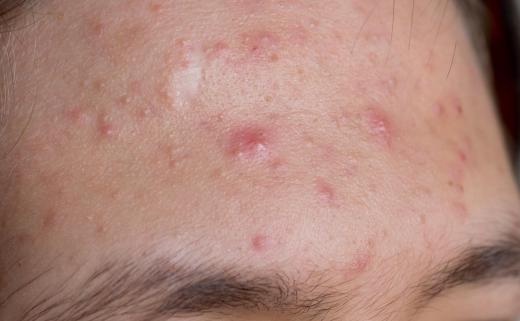 Similar to all types of acne treatment options, the effectiveness of using adapalene for acne varies depending on an assortment of flexible and inflexible factors. Some of the flexible factors include responsibilities on both the doctor's and the patient's parts. For example, the doctor can adjust the adapalene dosage and strength, and the patient can properly follow all instructions. Other, more inflexible factors include the patient's skin type, allergies, and tolerance for side effects. Overall, when used properly by someone who has no extreme or adverse physical reactions to the medicine, adapalene shows itself as an effective acne treatment within the first 12 weeks.
There are various methods for using adapalene for acne. Perhaps the most popular forms are creams and gels, but some doctors suggest liquid solutions and pledgets, or medicated pads. Strength can vary by product, but the most common example might be the 3 milligrams (mg) of adapalene for every gram of product. For example, a cream or gel that contains 0.3% of adapalene provides 3 mg of adapalene per gram of cream or gel. Some products might be stronger, but it's not usual for doctors to prescribe a lower strength of adapalene for acne.
Generally, doctors work with this medication's strength by working with its dosage. For example, a common dosage instruction for an adapalene product is to use it on clean skin, once a day before bedtime. Depending on a patient's skin type, the initial response to the medication, and the severity of the acne, a doctor might recommend using the product more than once a day.
Some of the most common side effects of adapalene include mild-to-moderate redness, itching, and burning. Most patients experience skin dryness, and some notice their skin peels or becomes scaly. Generally, these side effects go away anywhere from two to four weeks into the treatment, though they could last shorter or longer periods of time, depending on the patient. Clearly, using adapalene for acne is more beneficial for patients who can withstand these side effects than for those who cannot and stop using the medicine. Any patient who experiences extreme side effects should immediately stop using the product and contact a physician.
Even if the strength and dosage are correct for the patient's level of acne, and the patient isn't allergic to the medicine and can handle the side effects, there are times when using adapalene for acne isn't effective. For example, certain actions and behaviors while using adapalene for acne, like prolonged sun exposure and waxing the treated skin, can lead to further skin irritation. Likewise, factors such as other skin conditions like eczema, health issues like cancer, and reactions to other medications can affect the effectiveness of adapalene for acne.
Since it can take pimples up to eight weeks to fully form, it's possible for a patient to still see acne two months into his treatment. Therefore, it's important to give the medication roughly 12 weeks to work. Usually, a doctor will suggest a different acne treatment if a patient using adapalene for acne sees no results after 12 weeks.


By: olavs

A close up of acne.

By: ipag

In most cases, acne can be treated with over-the-counter cleansers and does not require prescription gels.

By: vgstudio

Drinking plenty of water can help keep the skin hydrated and reduce the occurrence of acne.

By: spotmatikphoto

Doctor's may adjust the adapalene dosage and strength to maximize its effectiveness for each individual patient.

By: Syda Productions

Sun exposure while using adapalene for acne can further irritate the skin.