How do I Use Tea Tree Oil on Acne?
Tea tree oil, which is made from the leaves of the tea tree, can be used in the treatment of acne. In most cases, this involves diluting the tea tree oil, also called melaleuca oil, and using it to clear oil from the affected area or to dry acne blemishes. Sometimes people also use tea tree oil on acne by making a facial mask out of this remedy. In most cases, such a mask is applied to the affected area and allowed to remain there for about 15 to 30 minutes before you wash it off. It is usually safe to use tea tree oil on acne, but some people may find it irritating to the skin.
The first step in using tea tree oil on acne is usually washing the affected area. It is generally helpful to wash the skin with a gentle cleanser, as a harsh cleanser may have an irritating effect on your skin when used in combination with tea tree oil. Once your skin has been gently cleansed, you may then do well to rinse it thoroughly and gently dry it with a clean cloth or towel.
Once your skin is clean and dry, you may apply tea tree oil directly to the affected area. For example, you may use a cotton ball or swab to apply the oil to your acne blemishes. Often, however, people who use this remedy for acne recommend diluting it prior to use. For example, you may choose to create a mixture of tea tree oil and water, using one part oil and several parts water. Some people use aloe vera as a mixing agent as an alternative to water.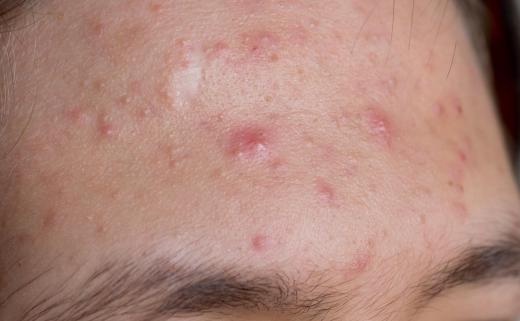 You may also use tea tree oil on acne by diluting it with water and using it as an astringent. For this use, you may apply the diluted oil to a cotton ball and then use the cotton ball to wipe away oil from the surface of your skin. You may do well to avoid rubbing the skin as you do this, however, as doing so may cause irritation. Likewise, you may avoid irritation by limiting your use of tea tree oil as an astringent to once daily.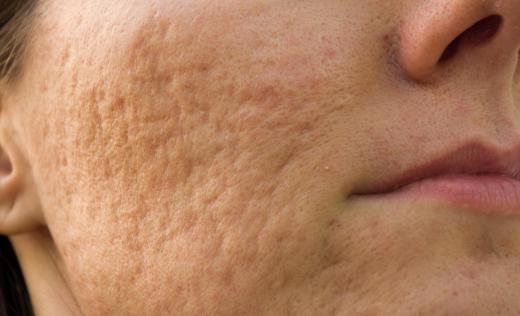 An acne mask that includes tea tree oil may also prove effective for dealing with acne breakouts. For this use, you may mix the oil with natural clay and water to make a mask and then apply it to the affected part of your skin. After about 15 to 30 minute, you may rinse it off with warm water. You could alternatively mix the oil with egg whites for the same purpose. In both cases, you will likely only need to use a few drops of tea tree oil.
AS FEATURED ON:
AS FEATURED ON:

By: wasansrisawat

Tea tree oil.

By: olavs

A close up of acne.

By: Budimir Jevtic

Tea tree oil can be used to reduce acne scars.

By: badmanproduction

Some people make a facial mask using tea tree oil to treat acne.