How Do I Treat Swollen Lips?
Choosing a method for treating swollen lips depends on the underlying cause, which can range from allergies to trauma to certain medical conditions. If allergies are to blame for the swelling, you will likely want to determine the food or substance causing the reaction so you can avoid it and maybe take an antihistamine to address the immediate problem. You may suspect a medical condition or infection is causing the swelling, in which case you should talk to your doctor about appropriate treatments. Swelling due to an injury often responds well to the application of heat or cold. Some other basic home remedies you can try include applying tea bags, a mixture of turmeric powder and fuller's earth, and keeping your lips moisturized with lip balm and by drinking plenty of water.
Often, swollen lips are the result of an allergic reaction, and if you determine that this is the case, then you should be able to clear up the problem and avoid it in the future. First, it is important to determine what you are allergic to; it could be a food, a certain brand of lipstick, or something else that comes in contact with your face like a pillow. Once you know, you can take steps to replace the offending item or avoid it. To address the immediate problem of the reaction that made your lips swell, an over-the-counter antihistamine can help.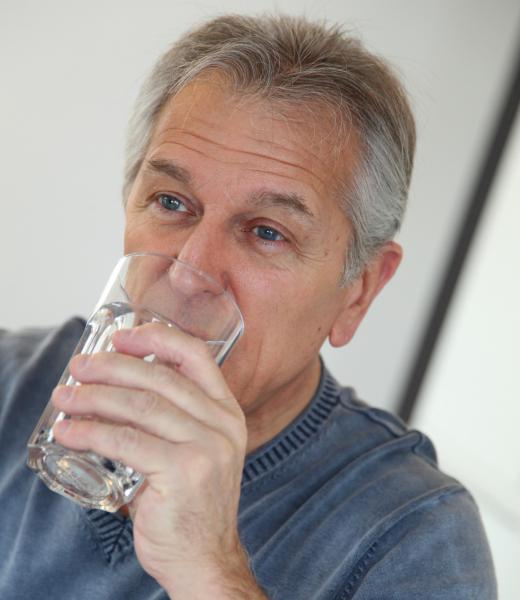 Certain diseases can also lead to swollen lips, and if you have one of them you may need medical treatment. Disorders such as cheilitis granulomatosa, acromegaly or mucopolysaccharidosis can all cause lip swelling, and may require prescription medications or even surgery. Infections such as oral herpes, which causes cold sores, may also result in swollen lips that medication can help.
Trauma from a bump or cut on the lips sometimes results in swelling. Often, this can be relieved with the application of ice or cold packs. Heat may also help by dispersing any blood that has accumulated and caused swelling.
There are some other general treatments you can try at home for the swelling. Applying damp, cool tea bags or a paste made from water, turmeric, and the healing mineral fuller's earth can help reduce swelling. Chapped, dry lips can also become swollen, so rehydrate them inside and out by applying lip balm and drinking water. Also, make sure to eat a healthy diet, as vitamin B deficiency can sometimes cause swollen lips.


A person with a herpes blister and swollen lips.

By: bst2012

An allergic reaction to lipstick can cause swollen lips.

By: goodluz

Hydration might help treat swollen lips.

By: Photographee.eu

Turmeric can be used to make homemade lip balms that also aid in reducing swelling.