How Do I Transfer Voicemail to Text?
There are a number of different ways to transfer your voicemail to text messages or email, including both free and paid services. Some phone companies offer this service, though there is typically a monthly charge if you want to activate it. There are also third-party companies that offer voicemail to text services, either using human transcribers or automated software. These services can typically be used with any type of voicemail, whether you have a landline or cellphone. Additional options are also available if you own a smartphone, as a number of both free and paid apps can replace the default voicemail with a version capable of transcribing your messages into text form.
Voicemail is a handy tool that can allow you to access messages from a landline or cellular phone regardless of your location, but it is not always feasible to use. When you are in a location where you cannot make calls, such as a meeting, or an area where it is too loud to hear your phone, it can be more convenient to read messages than listen to them. If you feel like you could benefit from this type of service, there may be a number of options open to you.
One way to transfer your voicemail to text messages or emails is to contact your phone company and see if it offers the service. Some phone companies offer this service on both landlines and cellular phones, though they will often charge you a monthly fee. Setting it up is typically a simple matter of calling and asking to have the service activated. You may provide them with an email address or cellphone number to send texts to, and the messages are usually left in your voicemail box in case you ever want to listen to them.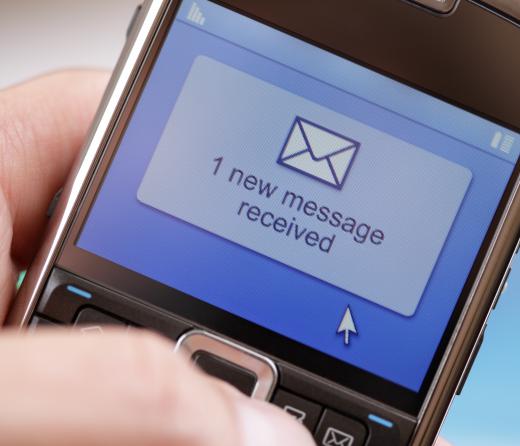 Another option is to locate a third-party company that offers voicemail to text services. Some of these companies charge monthly fees, while others monetize their services other ways and will not charge you. To set up this type of voicemail to text service, you need to give the service provider your phone number and possibly other information such as your voicemail personal identification number (PIN) or email address. Some of these services use automated voice to text software, while others employ human transcribers.
Many smartphones also come with the ability to use voicemail to text apps. To use this type of service, you typically need to download an application to your phone. Some of these programs work with your existing voicemail, while others replace it entirely. After you have installed the app, your voicemails will be transcribed and then displayed on your phone screen so you can read them.
AS FEATURED ON:
AS FEATURED ON:

By: N-Media-Images

Apps that convert voicemail to text are available for a variety of smartphones.

By: Brian Jackson

Some phone companies offer a was to transfer voicemail to text messages.

By: Alex

Voicemail allows users to access messages from either landline phones or cellular phones.

By: Giulio_Fornasar

Text messages provide a quick and convenient way to send short messages without needing to make an actual phone call.