How do I Relieve Sunburn Itching?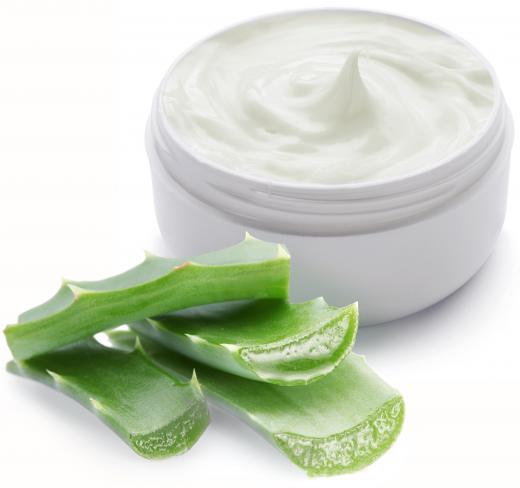 If you are suffering from a sunburn, one of the most irritating complications is likely the itching that often accompanies it. Fortunately, there are a few ways to stop sunburn itching quickly. One method is to keep the skin moisturized, since dry, irritated skin tends to itch quite a bit. Using lotions and taking baths with certain products, such as oatmeal, can help. You can also purchase soothing gels and topical creams to stop the itch that usually comes along with a sunburn.
An important rule of thumb is to keep the skin as moisturized as possible so that it does not get dry enough to itch. You can look for products that claim to be soothing for use with a sunburn, or you can just purchase lotions and creams that moisturize. Applying these products liberally to the body several times a day is known to stop sunburn itching. Using products that are fragrance-free is often best since artificial scents can irritate sensitive skin. Consider placing the lotion or cream that you choose in the refrigerator, as this will ensure that it is cool and extra soothing when you apply it to the skin.
Relieving sunburn itching at home can be relaxing, as baths are known to stop the issue, at least temporarily. If you do not have time to go to the store, you can use baking soda, apple cider vinegar, or peppermint to relieve the sunburn itching. You can also make your own oatmeal bath by blending unflavored quick oats in a coffee grinder, blender, or food processor until the flakes are tiny, and then add the powder to cool bath water. You can also usually purchase a colloidal oatmeal bath mix at the store. These products can help moisturize your skin, while the cool bath water can soothe it.
Aloe vera gel is one of the most popular remedies for a sunburn, mainly because it can soothe hot, irritated skin, and stop the itch. You should apply this gel generously to your skin often if you want to create a cooling sensation, and try to find products at the store that contain both aloe and moisturizing products, such as vitamin E or cocoa butter. While these products are soothing and can stop sunburn itching in most cases, there are also items that focus just on eliminating itching caused by various medical conditions. Hydrocortisone is just one example of the kind of product that specializes in eliminating itchiness, though if a sunburn is severe you should first consult with a dermatologist before using it.

By: volff

Aloe vera cream, which can help with a sunburn.

By: Comugnero Silvana

Apple cider vinegar can help relieve itching.

By: Amy Walters

Ultimately, preventative measures and avoiding burning in the first place are the best ways to treat a sunburn.

By: sugar0607

Baking soda may help relieve itching.

By: carroteater

Hydrocortisone cream can relieve the itching and irritation caused by a mild sunburn.

By: Elena Schweitzer

Oatmeal and honey help moisturize the skin and lock in essential oils.

By: robert mobley

Exfoliating the skin can speed up the process of healing sunburn by removing dead skin cells.