How do I Reduce Facial Wrinkles?
Reducing facial wrinkles is a hard task, especially as humans age, but there are some actions that can be taken that will help to reduce wrinkles somewhat. Many believe that the more one is willing to pay to reduce these wrinkles, the more successful the results will likely be. This is true up to a point, but some solutions to facial wrinkles are relatively simple, and cost little if anything.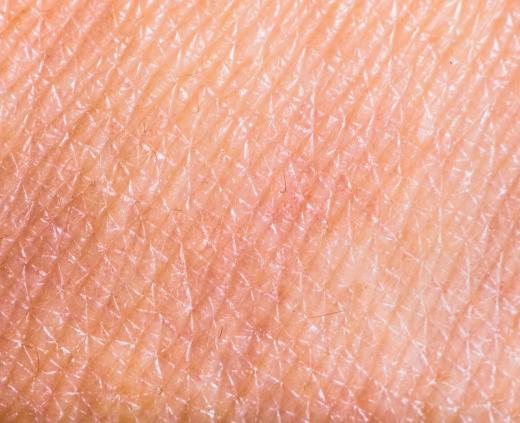 The main cause of wrinkles is the fact that as people age, the epidermis, or outer layer of the skin, becomes thinner. As that portion of the skin thins, it has less ability to hold in moisture. Further, there is less collagen produced as people age, which will cause the natural elasticity in the skin to be reduced over time. Therefore, most solutions to reducing facial wrinkles focus on these areas.
As with nearly all health issues, there are certain things an individual can do that will not only help skin care, but other health issues as well. Getting enough sleep each night, and making sure good hygiene habits are in place will help the skin significantly. These things take little or no money to practice and can even help save money by preventing the need for more expensive treatments.
Staying out of the sun, or using high-level sun block when outside, is another good habit. The sun can severely dry out the skin and rob it of collagen, thus causing premature aging. This often takes the form of wrinkles. Therefore, any protection against the sun may help keep the skin better moisturized, and reduce facial wrinkles.
Another easy to step to reduce facial wrinkles is to find good moisturizing products that will help put moisture back into the skin. This can be done with moisturizing soaps and lotions, which are available in the health and beauty section of many retailers. For those who feel they need additional help, or find mass marketed moisturizers are not working, they may contact a dermatologist to see what is recommended. Any type of skin care treatment program should be followed regularly in order to ensure optimum results.
One other solution for facial wrinkles is in Botox®. This product has an ingredient known as botulinum toxin A, which causes temporary paralysis when it is injected into the skin. This paralysis does not allow the skin to move. If the movement is stopped, so are the wrinkles. Botox® can be used for any facial wrinkles, but is most commonly used for eye wrinkles. This can be a very expensive treatment, but is very effective for a period of four to six months.


By: Alila

A diagram of younger and older skin showing the decrease in collagen in older skin. Various techniques can be used to help boost collagen production and make the skin smoother.

By: Deyan Georgiev

As humans age, their skin starts to lose its natural elasticity.

By: phasinphoto

Botox is temporarily effective for crow's feet.