How do I Reduce Eye Wrinkles?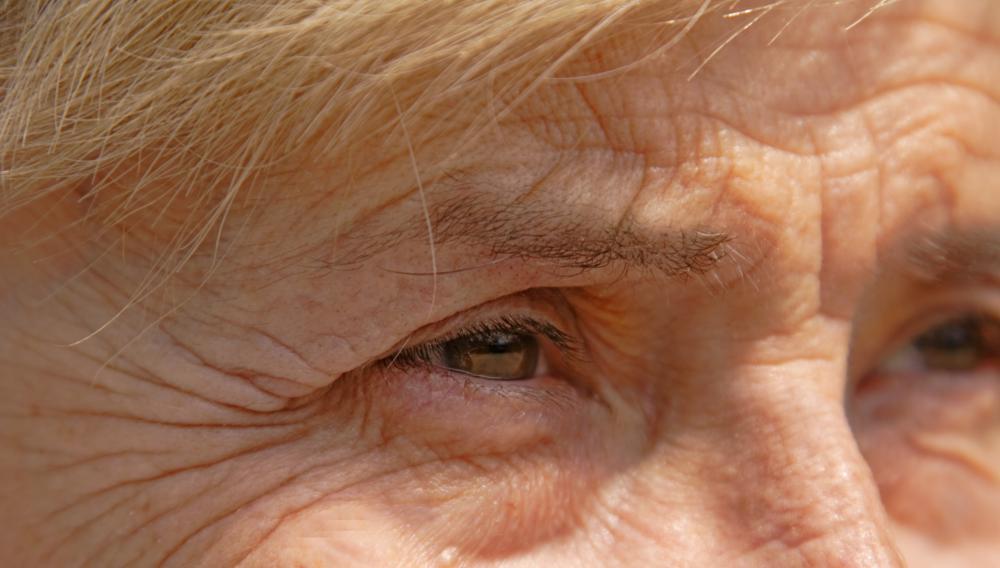 Eye wrinkles can be caused by four different factors; aging, excessive exposure to UV rays, dehydration and lack of proper nutrition. Wrinkles caused by UV ray exposure, lack of proper nutrition, and dehydration can, and should, be prevented. Though you can never completely get rid of eye wrinkles once they occur, you can reduce their appearance.
In order to reduce eye wrinkles caused by exposure to UV rays, you will need to invest in a good pair of sunglasses. This will protect your eyes from the UV rays and reduce the amount of squinting you do when exposed to direct sunlight. Apply sunscreen around your eyes as a back up to when you remove your sunglasses. The wrinkles around your eyes will gradually lessen in appearance.
Deep green, orange, yellow and red foods such as carrots, sweet potatoes, cantaloupe, spinach and apricots help keep wrinkles at bay. These foods are carotenoid rich, which means they provide UV protection, slowing the progression of wrinkles. Other foods that contain anti-oxidant vitamins such as A, C, E, Zinc and Selenium, minimize the amount of free radicals that damage the skin. If your diet is lacking in these nutrients, add them in to reduce some of the damage that has already been caused to your skin and prevent further harm from occurring.
Dehydration causes thinning of the skin, which results in the development of wrinkles, especially around the eyes. Water evaporates from your skin at a rate of a half a pint a day. If this water isn't continuously replenished, dehydration occurs, followed by the development of wrinkles. These wrinkles can be easily reduced just by drinking the required, eight to ten glasses of water per day.
Many people swear by the effectiveness of skin creams to reduce eye wrinkles. These haven't been proven to be effective, as the skin can not absorb the large molecules of collagen found in them. They do, however, increase the moisture content of your skin, which may help increase it's elasticity, reducing wrinkles. When looking for an anti-aging wrinkle cream, search for one with all natural ingredients, as harsh chemicals may do more harm than good. If you find that a cream is effective for you, stick with it.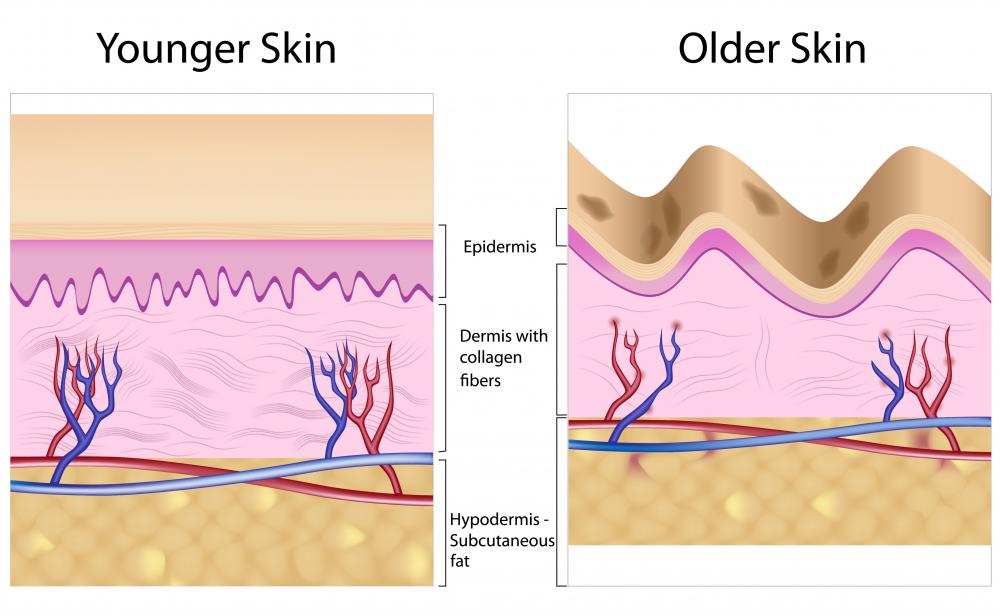 A majority of the causes of wrinkles can also harm your body in other ways. Just by attempting to reduce eye wrinkles you can improve your overall health. Eating nutrient rich vegetables and drinking more water can increase the productiveness of your circulatory and nervous system. Wearing sunglasses will prevent damage to your eyes caused by UV ray exposure. Your eye wrinkles may be trying to tell you something about your overall health, so don't ignore them.
A woman with wrinkles.

Wearing sunglasses can prevent damage to the skin around the eyes.

Eating cantaloupe can help prevent eye wrinkles.

Drinking enough water can help prevent eye wrinkles.

A diagram of younger and older skin showing the decrease in collagen in older skin. Various techniques can be used to help boost collagen production and make the skin smoother.

Apricots can help keep wrinkles away.

Foods such as spinach help keep eye wrinkles at bay.

Prescription eye wrinkle creams help stimulate skin cell renewal.